Monday, 26th March 2013
Walk:
Rivington Hall Barn, Pigeon Tower, Rivington Pike, Wilderswood, The Castle, Lever Park
Start Point:
Rivington Great Barn
Grid Ref:
SD 628 138
Distance:
6 miles
Ascent:
1,550 feet
Weather:
Sunny with a very cold and strong wind
Time:
6 hours
Comments:
After driving beside 5 foot drifts on the way to Rivington I wasn't sure what to expect on the walk. The snow drifts were a delight but the strength of the wind prevented me from climbing the steps to the Pike itself. Walking in the snow was easy due to the fact that I had taken my 'Get a Grip' spikes - the first time I have used them this year!
Scroll down to see photos of the walk
The pond beside Rivington Hall Barn
Glad I wasn't here . . .
when this tree came down!
The gully near Rivington Hall Barn . . .
looks picturesque today
Climbing up towards the Pigeon Tower . . .
provides views north towards Great Hill
Looking over Yarrow Reservoir from The Pigeon Tower
The main track above the terraced gardens . . .
and a blocked track leading into the Gardens
A narrow path has been created . . .
past some of the snow drifts . . .
with a wider path further on . . .
and looking back
Another snow drift . . .
but I turn off to the Pike and opt for the lower path . . .
with views to Winter Hill . . .
the Two Lads cairns . . .
and the back of The Pike - with hardly any snow
Back on the main track . . .
the wind has caused . . .
lots of snow drifts . . .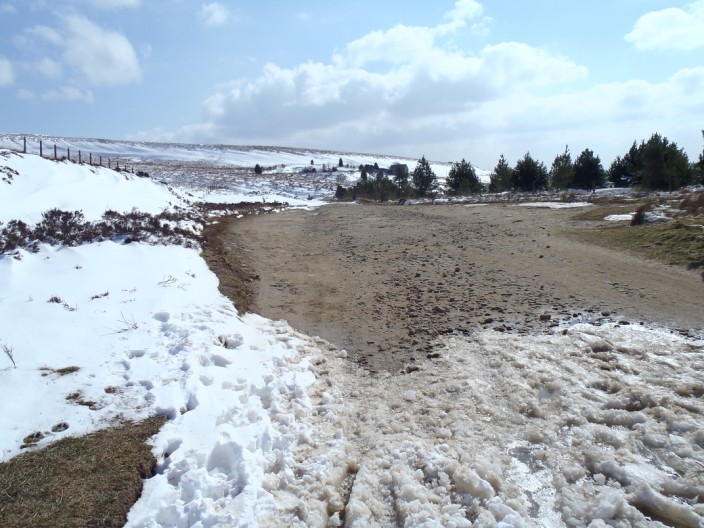 and some clear sections . . .
with the main mast on Winter Hill still in view
The case of the disappearing fence
Instead of the new growth of Spring . . .
the tree has a dressing of snow . . .
in the midst of another gully
Wilderswood
The llama is hopeful . . .
that someone will feed him . . .
but he will be disappointed
Not much snow in The Castle . . .
where there are views over Lower Rivington Reservoir . . .
and back up to The Pike . . .
which can also be seen from Lever Park
Snow adorns the shores . . .
of the reservoir