Monday, 6th May 2013
Walk:
Cant Clough Reservoir, Gorple Stones, Clough Head Stones, Widdup Reservoir, Gorple Cottages, Noah Dale, Hoof Stones Height, Shedden Clough, Cant Clough Reservoir
Start Point:
Hurstwood car park
Grid Ref:
SD 882 312
Distance:
13 miles
Ascent:
2,024 feet
Weather:
Sunny with a cool breeze
Time:
6 hours
Comments:
Last time I did this walk there was a mist that restricted views. With a good forecast today I decided to check out what I had missed last time. The views were good but having changed some of the route it was quite tough walking between leaving the Pennine Bridleway and arriving at Hoof Stones Height. Despite the recent dry weather there were a number of boggy sections which needed careful navigation. Whilst this is an enjoyable walk it is a tiring one.
Scroll down to see photos of the walk
Hurstwood Reservoir
Looking back to Cant Clough Reservoir
There seems to be a severe shortage of water at Gorple Upper Reservoir
Clough Head Stones . . .
are made up of . . .
three distinct sections
More stone sculptures sit above Widdup Reservoir . . .
and again from the opposite side
Widdup Reservoir . . .
and again from the opposite side of the dam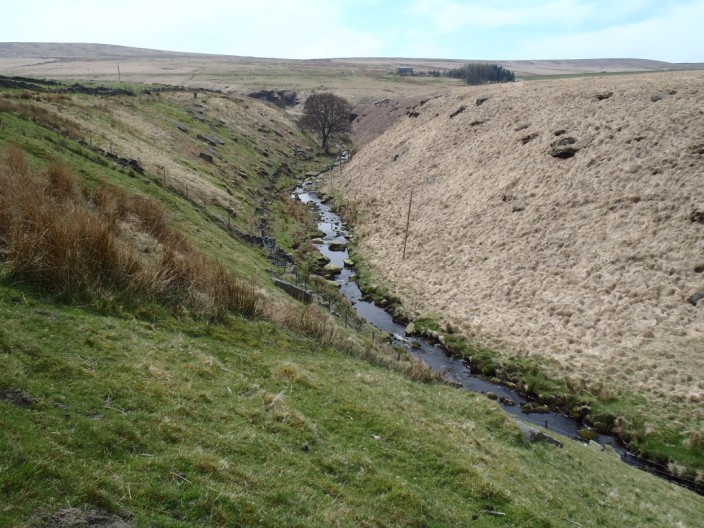 A pleasant section beside Graining Water . . .
which is crossed by two footbridges
Gorple Lower Reservoir
An unusual footbridge crosses a peaty coloured beck
There seem to be a number of abandoned buildings in this valley
Family scene
Hoof Stones Height . . .
the high point of the walk
Coal Clough Wind Farm
Cant Clough Reservoir looking very blue in the bright sunshine
Leaning on the fencepost . . . .