Sunday, 10th November 2013
Walk:
Rivington Village, Yarrow Reservoir, Lead Mines Clough, Bomber Memorial, Standing Stone Hill, Great Hill, Wheelton Plantation, Stronstrey Bank, Anglezarke Reservoir, Yarrow Reservoir
Start Point:
Rivington Great House Barn
Grid Ref:
SD 630 141
Distance:
12.5 miles
Ascent:
1,560 feet
Weather:
Dry and sunny
Time:
6 hours
Comments:
Today I joined Ian & Karen and the Long Distance Walkers group for a walk from Rivington to Wheelton Plantation, taking in the Remembrance Service at the Bomber Memorial in Lead Mines Clough. While much of the route was very muddy underfoot it was a bright and sunny day with perfect light to enhance the views.

In the early hours of the cold winters morning of Tuesday 16th November 1943, a Wellington Mk 1c twin engined bomber of 28 OTU (Operational Training Unit) Royal Air Force, crashed with the sad loss of all aircrew onto Anglezarke Moor north of Bolton, in the area now designated the West Pennine Moors. The Wellington, serial Z8799, had originally taken off at around 22.50hrs on the late evening of Monday 15th November 1943, from its base at RAF Wymeswold, Leicestershire, with its full compliment of six crew members for a routine night training / navigation exercise.

For reasons unknown the aircraft went into a steep uncontrollable dive, resulting according to the Court of Inquiry in structural failure of the airframe and its subsequent terrible impact onto remote moorland. None of the six aircrew survived the impact, they were the 1st pilot, Flight Sergeant Joseph Banks Timperon, aged 24yrs, from Ardrossan, Australia, 2nd pilot Sgt Eric Raymond Barnes, aged 22 from Nottingham, Navigator, Sgt Joseph Banks Hayton aged 34 from Whitehaven, Wireless Operator / Air Gunner Sgt Robert Sidney Jackson, Wireless Operator / Air Gunner Sgt George Earnest Murray from South Sheilds and Rear Gunner Sgt Matthew Mouncey aged 19 from Leeds. (the team is grateful to Stuart Clewlow of Euxton Chorley for the additional research details on the aircrew, their ages and home towns.

In June 1955, members of The Rotary Club of Horwich (a nearby town nestling in the foothills of the moors) had a Memorial erected a short distance away from the actual crash site, on a hillside overlooking the beautiful moorland stream and valley known as Lead Mines Valley.
Scroll down to see photos of the walk
Yarrow Reservoir looking much depleted
Gathering the troops before descending to Alliance Bridge . . .
from where the River Yarrow looks very different . . .
to how it looked in 2009
and similarly, from the opposite side of the bridge, the Yarrow Reservoir today . . .
and in 2009
Crossing upstream . . .
to reach the Bomber Memorial . . .
where a large number of people have already gathered . . .
and after the service
Zooming back to the memorial as we leave . . .
to head past Wilkinson Bullough . . .
where there are great views to Winter Hill
Joining the flagged track from Spitlers Edge . . .
to Great Hill . . .
from where we can see Darwen Tower - and Blackburn!
Drinkwaters is the ideal spot for lunch . . .
before following the track to Wheelton Plantation . . .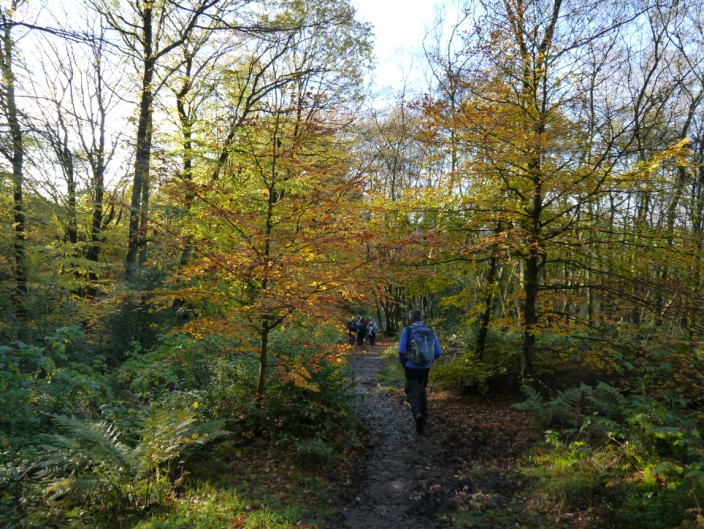 dressed for Autumn
Heading back past Anglezarke Reservoir . . .
but in 2011!
High Bullough Reservoir . . .
shows off its surrounding Autumn colours
There must be some work going on with these reservoirs -
note the piles of stone on the left hand bank further along Anglezarke Reservoir
The Pigeon Tower and Rivington Pike, nearing the end of the walk