Sunday, 24th August 2014
Walk:
Latterbarrow, Yewbarrow, Lawns Wood, Whitbarrow Scar, Farrer's Allotment, Rawson's Wood, Buckhouse Wood, Beck Head, Witherslack
Start Point:
Roadside nr Derby Arms
Grid Reference:
SD 440 828
Distance:
11 miles
Ascent:
1,840 feet
Time:
5.75 hrs
Weather:
Intermittent sun with a cool breeze in exposed sections
Comments:
A pleasant day with a good amount of sunshine making it very warm when sheltered from the cold wind on the ridge. The Langdale Pikes were easy to identify but other Lake District summits were more difficult to identify. With frequent 360 degree views it was a good day to identify hills, including Ingleborough.
The rustic facade of . . .
this extension attracts my attention!
Heading through the woods . . .
to Yewbarrow with the Lake District fells in the distance
The Belted Galloways are originally from southern Scotland . . .
and are adapted to living on windswept moorlands of the region
Witherslack Hall, which is now a school . . .
and has equestrian facilities
Our first view to Morecambe Bay and Heysham . . .
as we approach Lord's Seat, an Outlying Fell . . .
from where we have more views . . .
to the Lakeland Fells . . .
and across the Kent Estuary
This tree doesn't seem to have grown much . . .
since I was here in February 2012!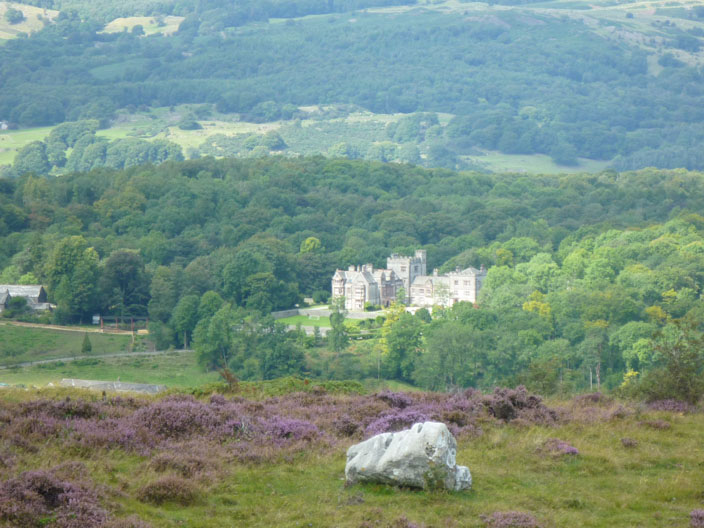 Along the ridge we find a different view of the Hall, . . .
out to the estuary . . .
where we can see the trainline from Arnside to Grange . . .
and the meandering path of the River Kent
A spot of colour
Sheila inspects the 'alternative route' from Farrer's Allotment . . .
as we return through Buckhouse Wood . . .
and spot an interesting tree
You dont often spot a foal taking a drink . . .
and having a breather
Another foal comes to greet us
Beck Head . . .
aptly named
Looks like autumn is on the way!