Tuesday, 26th August 2014
Walk:
High Yewdale, Harry Guards Wood, Holme Fell, Hodge Close, High Oxen Fell, Hollin Bank, Black Fell, Iron Keld Plantation, Tarn Hows, Hill Fell Plantation
Start Point:
Sport & Socials Centre, Coniston
Grid Reference:
SD 305 977
Distance:
11 miles
Ascent:
2,320 feet
Time:
6.25 hours
Weather:
Intermittent sun with a strong, cold breeze on the summits
Comments:
One Wainwright to be ticked off, so another one added for luck! Sheila and I set out from Coniston on a promising but windy morning, making our way up to Holme Fell via Harry Guards Wood. After finding a sheltered spot for our morning break we made our way past a disused quarry, now looking more like a pleasant tarn, to Hodge Close. Health and Safety seems to have found its way here, with relatively new fencing keeping the walkers away from the edges of the quarry, thus eliminating most of the views. Continuing on to Black Fell we reached the summit, Black Crag, in time for a late lunch. Then it was mainly downhill past Tarn Hows and through the woodland to Coniston Village.
A Gothic folly custom built for fox hounds in the late 19th century . . .
on the Monk Coniston Estate
Coniston Old Man
Low Yewdale . . .
and High Yewdale
Yew Tree Tarn as we start the climb through Harry Guards Wood
As the Langdales come into view, so does one of the disused quarries
Coniston Water from . . .
Holme Fell . . .
where we strike a couple of . . .
'mountain poses'
Lots of dragon flies around - just managed to catch one!
One of the disused quarries . . .
and again from the opposite side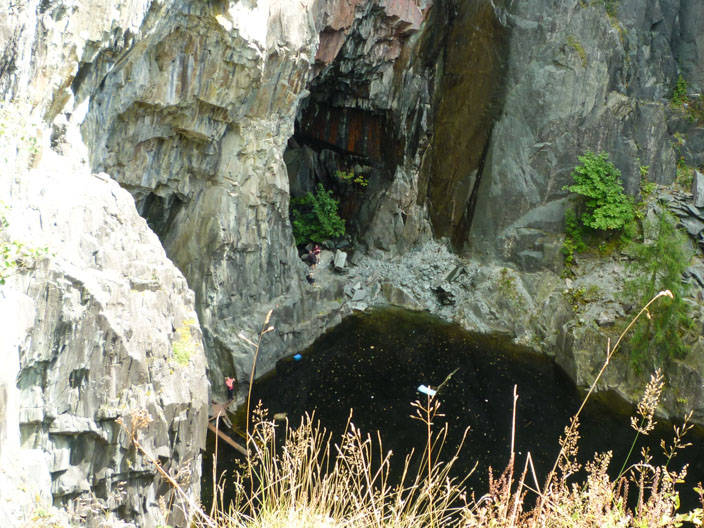 Hodge Close disused reservoir you can just see some people at each of the entrances . . .
lots of colour in the walls above the openings
The target of our walk . . .
as Sheila ticks off another Wainwright . . .
Black Fell (Black Crag)
We decide to investigate the nearby cairn . . .
which Wainwright comments on in his guide
Tarn Hows