Saturday, 30th August 2014
Walk:
Deerstones, Spence Moor, Fell Wood, Lower Ogden Reservoir, Barley, Pendle Hill, Hookcliffe Plantation, Worston Moor, Scout Cairn, Badger Wells Hill
Start Point:
Sabden Lay-by
Grid Reference:
SD 775 370
Distance:
13.6 miles
Ascent:
3,370 ft
Time:
6.5 hrs
Weather:
Overcast with sunny spells
Comments:
Wanting a walk with a good amount of total ascent and distance I chose this route previously completed in the opposite direction. As it happened my walk coincided with the first day of the week long annual Pendle Walking Festival which was also celebrating the 50th Anniversary of the creation of the Forest of Bowland Area of Outstanding Natural Beauty. After meeting a walking group leaving Fell Wood l I also caught the end of a fell race, the competitors no doubt pleased that the last section was all downhill.
Churn Clough Reservoir
The trees north of the reservoir have been felled but the hill beyond is bright with heather
Approaching Deerstones, the site of a landslide . . .
where the rocks below are probably the result of frost shattering
Looking back to Churn Clough Reservoir and Sabden . . .
and across to my return route - following the ridge from the right
Remnants from the 'hole in the wall'?
Spence Moor doesn't get any less boggy!
Someone has been around with brightly coloured tape and new signs
The summit of Pendle Hill - I hope the low cloud has gone by the time I get there
Another new sign - but the tape was a lot brighter than the paint
Looking back up the path leaving Fell Wood . . .
to emerge above Lower Ogden Reservoir . . .
where a bridge takes you across the stream . . .
to pass a link to the Pendle Witches
Enjoying lunch on a banking beside Lower Ogden Reservoir - the sheep decide not to join me!
Further along the route 3 runners enjoy a downhill section
I'm always impressed by this garden
The top sign is an optical illusion seen as three arrows joined together or a square with bits missing?!
Fell Wood and Lower Ogden Reservoir seen from the path up Pendle Hill . . .
and the Black Moss Reservoir below Aitken Wood which now houses a sculpture trail
Fairly quiet on the summit, known as Big End
Descending the northern side of Pendle Hill - views across the Ribble Valley . . .
and Downham
An unusaul sight . . .
as I pass a fell pony . . .
disturbed from its nap
Scout Cairn
I wonder who had to paddle to build the wall!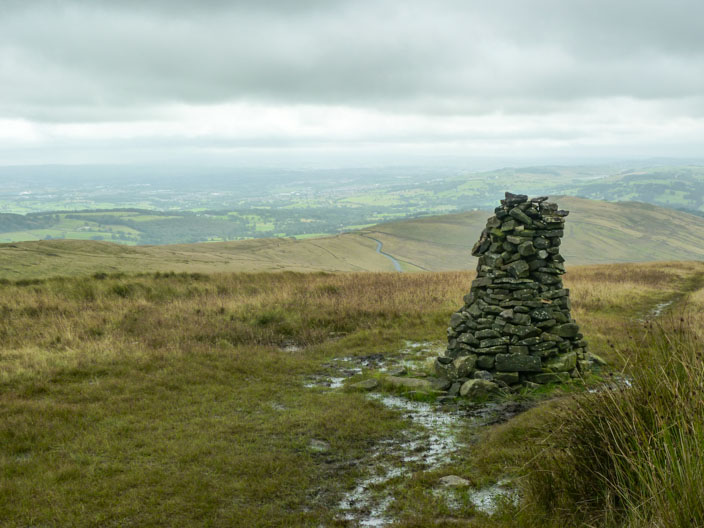 The Nick of Pendle can be seen from the cairn on Mearley Moor
If you look carefully you can just see the ropes holding the kite - but the people were hidden