Tuesday, 1st July 2014
Walk:
Mossdale Beck, Glenridding Dodd, Sheffield Pike, Hart Side, Stybarrow Dodd, Watsons Dodd, Sticks Pass, Raise, White Side, Glenridding Valley
Start Point:
Stybarrow Crag
Grid Reference:
NY 387 178
Distance:
12 miles
Ascent:
3,800 feet
Time:
7.75 hours
Weather:
Sunny and warm
Comments:
The climb from Stybarrow Crag was pretty steep but at least it was in the shade of the trees. After reaching Glenridding Dodd I continued on to Sheffield Pike where I had a morning break. Just before resuming the walk a gentleman I had spoken to earlier arrived and after some discussion about Wainwrights he decided to join me to tick off 5 more summits than he had originally intended. We followed the sequence of Wainwrights as listed above before descending into Glenridding valley to walk back to our respective parking spots. The weather was fantastic with great views in all directions.
Ullswater, opposite Stybarrow Crag lay-by
Climbing beside Mossdale Beck . . .
Emerging from the woodland and the steepest part of the climb . . .
to reach Glenridding Dodd . . .
with Sheffield Pike to the right
Another 'for the album'
Boundary Stone with M for Marshall estate and H on the other side for Howard estate
The return route can be clearly seen
Glenridding from the early part of the climb to Sheffield Pike
The left hand path heads to Red Tarn while the other one follows Glenridding Beck, with Catstye Cam between them
Approaching Sheffield Pike . . .
from where Sticks Pass can be seen . . .
and Ullswater in the opposite direction . . .
and the cairn provides a good seat
Hart Side . . .
and me . . .
and Hugh who joined me on Sheffield Pike
Stybarrow Dodd - used to have a large upright stone in the centre!
Watsons Dodd . . .
and time for me to celebrate . . .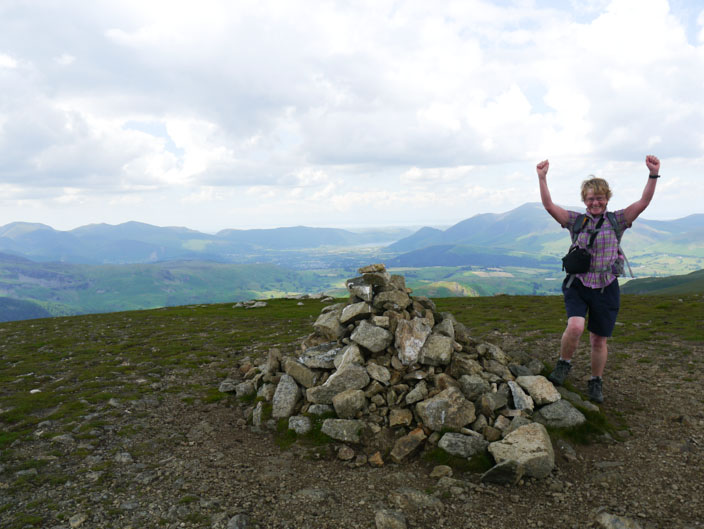 my 1,000th Wainwright summit
Thirlmere
Skiddaw and surrounding fells
D of E participants . . .
heading for Sticks Pass to camp at Thirlspot
Raise with Skiddaw just to its left
Hugh bags his 6th new Wainwright summit . . .
and I visit it for the 10th time
Helvellyn with Catstye Cam to the left . . .
and a closer look at Swirral Edge . . .
and still closer!
and closer still . . .
Striding Edge behind the Swirral Edge ridge . . .
with Catstye Cam to their left
White Side - with more views of Skiddaw. . .
and another view of Swirral Edge . . .
and me!
Back at Stybarrow Crag with the evening light on Ullswater