Saturday, 5th July 2014
Walk:
Satura Crag, Bedafell Knott, Beda Fell, Christy Bridge, Steel Knotts (Pikeawassa), Roman Road, High Raise, Rampsgill Head, Hayeswater Gill
Start Point:
Hartsop
Grid Reference:
NY 410 130
Distance:
12.5 miles
Ascent:
4,000 feet
Time:
7.5 hours
Weather:
Overcast with sunny spells
Comments:
Not wanting a long drive round to Howtown to climb up Steel Knotts I devised a route from Hartsop, over Beda Fell and up the side of Steel Knotts then on to High Raise and Rampsgill Head before descending to Hayeswater and back to Hartsop. A fine day was forecast and apart from a cool wind at times the weather was just right for this walk. Taking the tripod for the first time it was easier to get good photos than when using the gorillapod. The lower bridge across Hayeswater Gill had been strengthened to allow access for site traffic working at Hayeswater. It will be interesting to see what they do when they have finished!?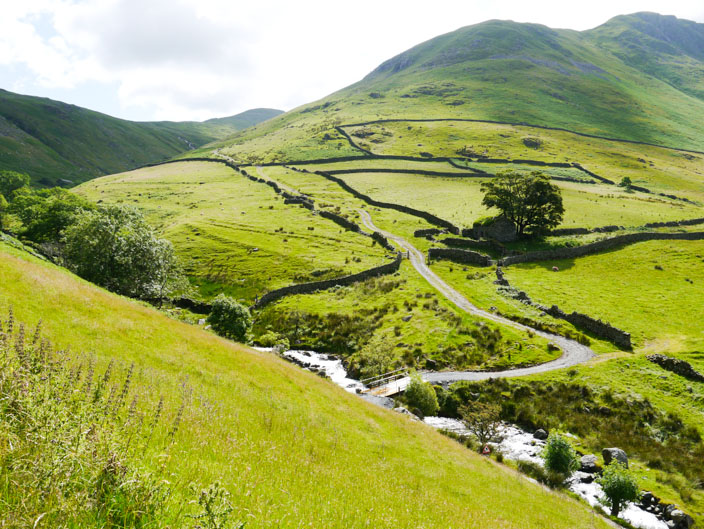 Climbing the hillside opposite Gray Crag . . .
looking back Brothers water comes into view with the Fairfield Horseshoe on the horizon
From higher up Gray Crag towers over Hayeswater
Angle Tarn with the recognisable upside down cone of Catstye Cam in the distance
Glenridding sits below Place Fell . . .
and it looks like the ferry is just leaving
The northern of the two Angletarn Pikes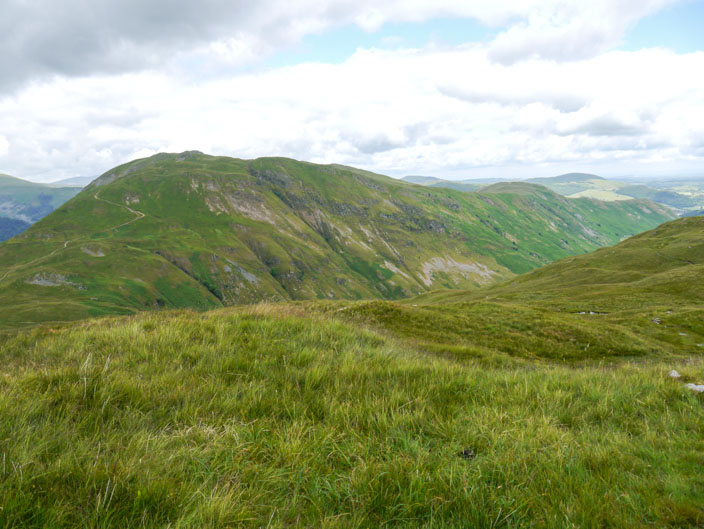 The long sloping ridge of Place Fell . . .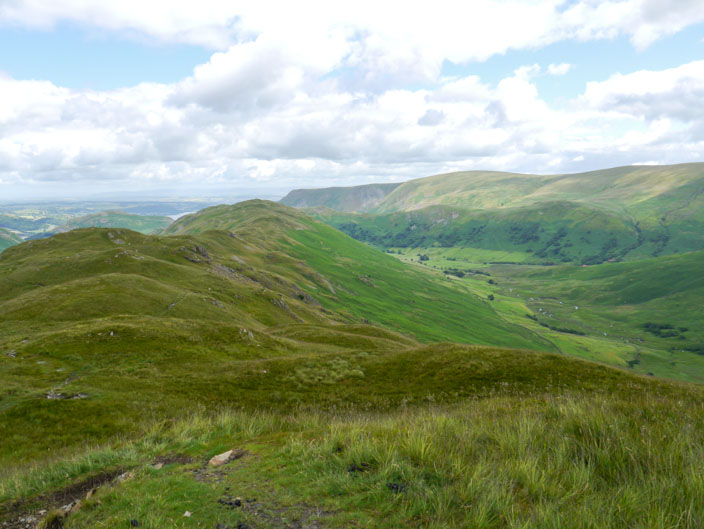 and my route looks flatter - but the undulations can't be seen from here!
Bedafell Knott with the summit of Place Fell behind
Beda Fell with Ullswater visible on each side of Hallin Fell . . .
and in the opposite direction The Nab sits below Rampsgill Head . . .
and I find a seat on the cairn
Ullswater from the descent . . .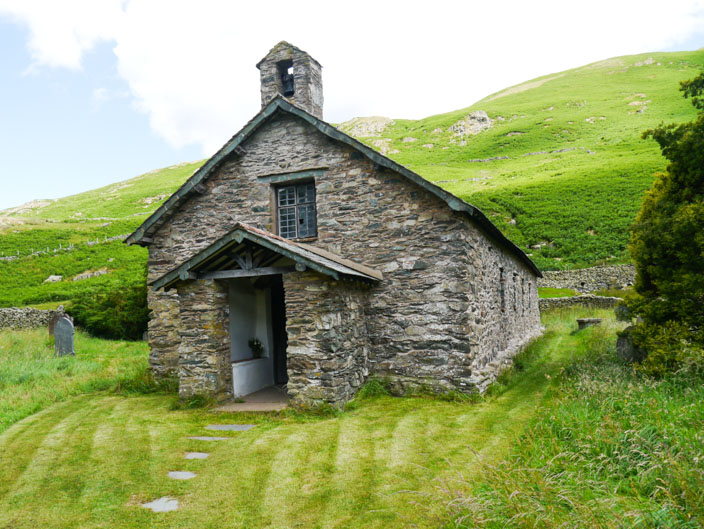 into Martindale and a brief stop . . .
at the Old Church of St Martin, probably erected at the end of the 16th century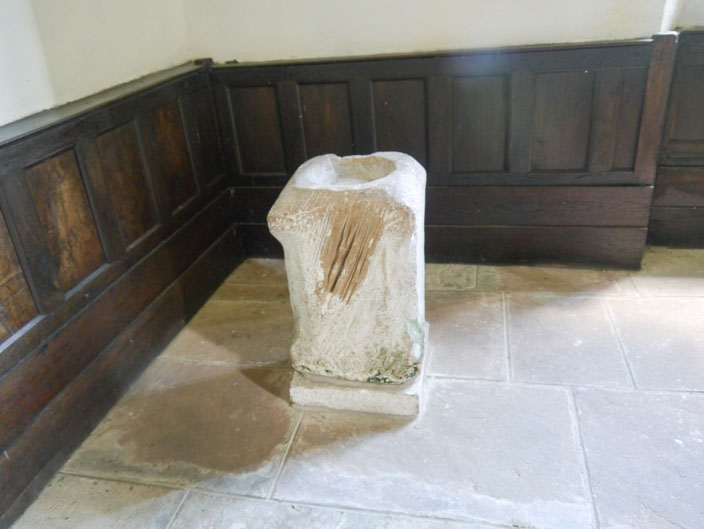 The font is believed to be part of a Roman altar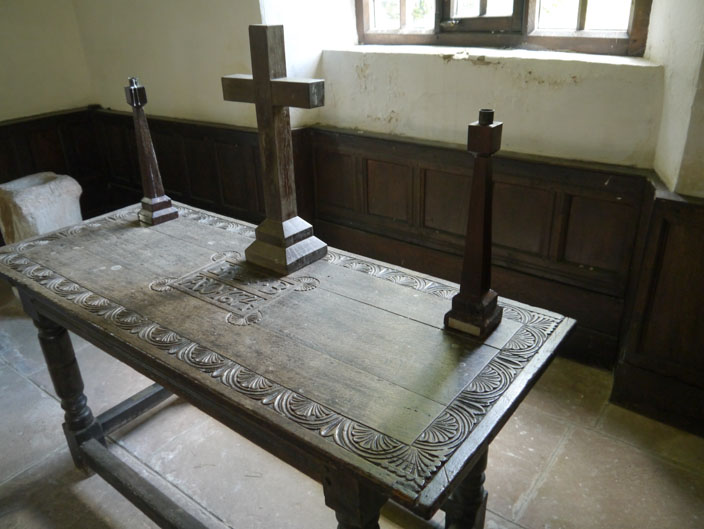 The altar table seems to have some history behind it . . .
but I couldn't find any information about it
A fine rocky outcrop on Steel Knotts . . .
also known as Pikeawassa . . .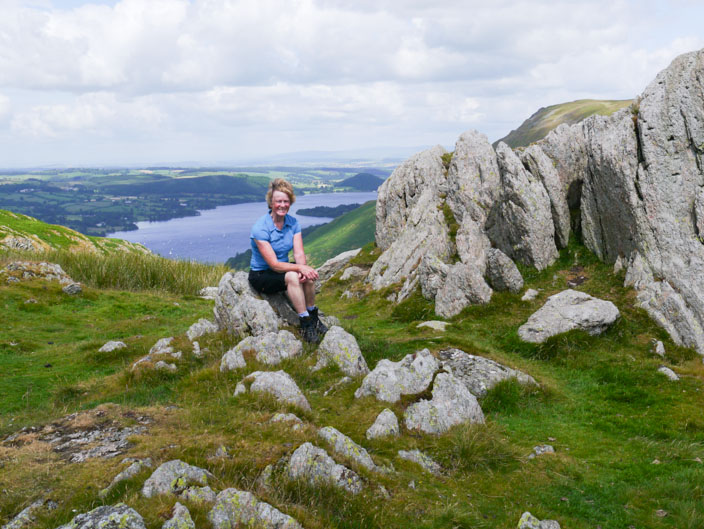 and the perfect place for a break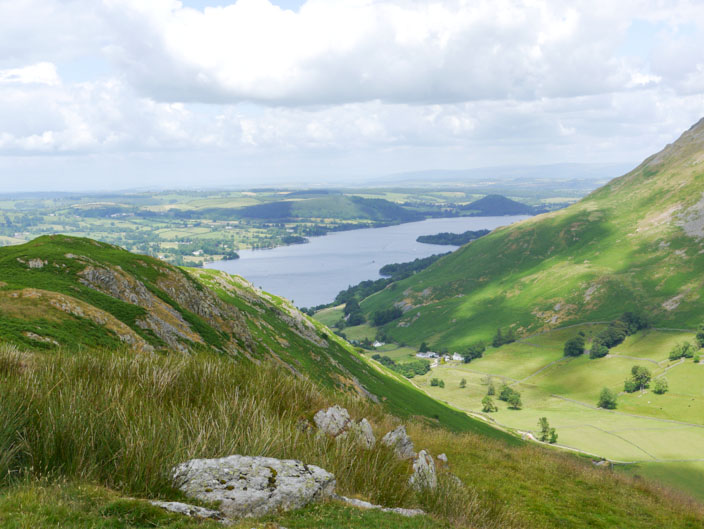 Looking back to Ullswater . . .
and along the Fusedale Valley . . .
before continuing to climb to the Roman Road on the left
Once on the Roman Road the end of Haweswater can just be seen
High Raise with views to Kidsty Pike and High Street on the right . . .
and across to the Pennines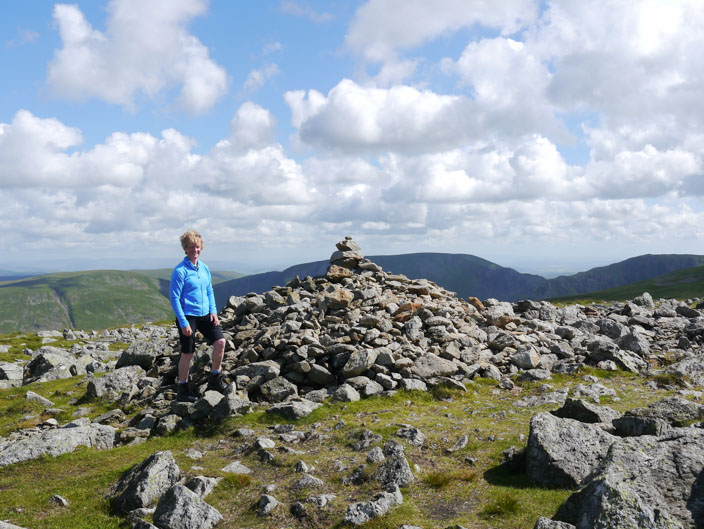 Another one for the album
Rampsgill Head . . .
and another summit photo
Hayeswater reservoir, not used since 1905 . . .
work is now being carried out to lower the level of the reservoir . . .
so that the weir can be removed and the reservoir returned to a natural tarn . . .
which will be about 6ft lower than the reservoir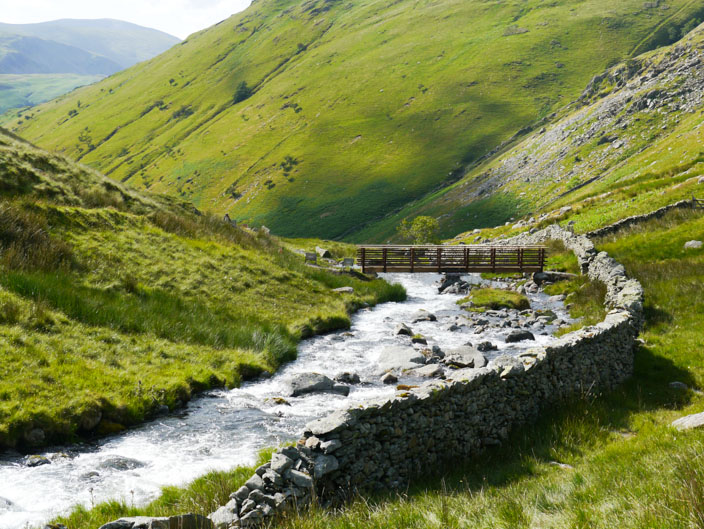 A temporary bridge has been built . . .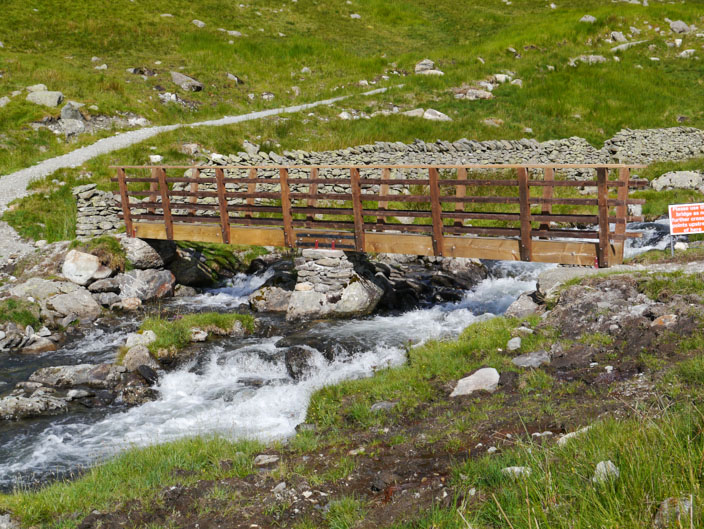 to cater for the path being rerouted
As result of the work . . .
there is a lot of water in Hayeswater Gill
and the small wooden bridge has been replaced to cater for site traffic