Wednesday, 9th July 2014
Walk:
Three Men of Gragareth, Gragareth, Great Coum, Crag Hill, Bullpot Farm, Ease Gill Kirk, Anneside, Leck Mill
Start Point:
Leck Church car park
Grid Reference:
SD 643 766
Distance:
15 miles
Ascent:
2,750 feet
Time:
7.25 hours
Weather:
Intermittent sun and shade
Comments:
Most of the interest on this walk is near the beginning and near the end. The Three Men of Gragareth are worth a visit before continuing on to the trig point on Gragareth. Following the boundary wall, the County Stone is eventually reached where a visit can be made to Lancashire, Yorshire and Cumbria in three short hops (or scrambles over the wall stiles). Great Coum sounds impressive but the highest point has nothing to mark it whereas the next high point, Crag Hill, has its own cairn. After making my way down to Bull Pot Farm I took the path to Easegill Kirk where I spent some time exploring before making my way back to the car - often through bracken nearly as tall as me!
A sharp climb leads to a trig point shaped cairn next to . . .
The Three Men of Gragareth . . .
and one lady
Leaving The Three Men behind . . .
another set of three cairns . . .
may be known as The Three Ladies of Gragareth plus one other
Climbing up onto the ridge . . .
the trig point on Gragareth . . .
is known in some records . . .
as the highest point in Lancashire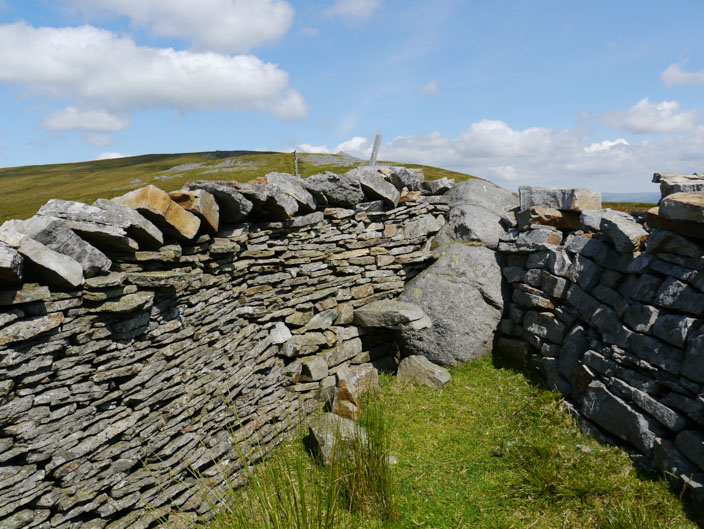 The County Stone sits at the most northerly point of Lancashire . . .
and protrudes into Yorkshire . . .
as well as Cumbria (Westmorland) . . .
and is marked by this date
From the highest point on Great Coum we look down to the Ribble Valley with the viaduct just visible on the right
Nearby is a cairn which gives views to the Howgills . . .
anf further along the trig point on Crag Hill looks over to Morecambe Bay
The entry to Easegill Kirk, or what would have been the exit when water flowed through here . . .
and opposite the entry, water would have entered here . . .
but the bottom of the u shape is about 6 feet off the ground
This used to be a cavern before the roof collapsed . . .
and the surrounding rock is worn into interesting shapes . . .
but even on a dry day the rocks are very greasy
Looking back at the entrance . . .
it's amazing that the trees . . .
cling to the rocks
A final look at the smooth rocks where a waterfall used to be
This rock step leads up to the upper level but I used a path that omits this scramble
Who would believe what interest lies behind the trees!
A well shaped tree enhanced my afternoon break . . .
where I had lots of rocks to choose from
The bracken was so dense and tall that I had to search for the 'escape' route (to the right of the thistles)
Looking up Leck Beck to Leck Head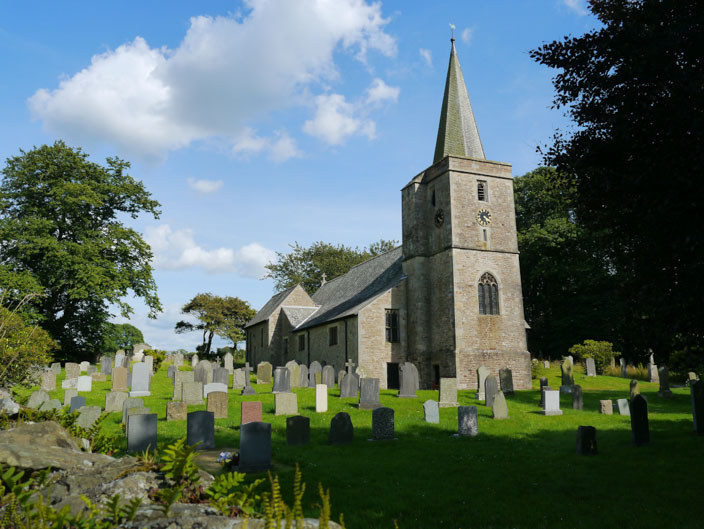 St Peter's Church, Leck