Saturday, 14th June 2014
Walk:
Pendle Hill, Barley, Aitken Wood, Twiston Moor, Twiston, Score Clough Beck
Start Point:
Downham car park
Grid Reference:
SD 784 440
Distance:
11 miles
Ascent:
2,270 feet
Time:
5.5 hours
Weather:
Overcast but warm and some sun later
Comments:
This walk was planned after discovering information about the Pendle Sculpture Trail. It contains ten ceramic plaques that represent each of the Pendle people who were hanged 400 years ago in the biggest witchcraft trial in the country. There are also a number of sculptures to find on the way - I must have missed quite a few!
A youth group take a break on the summit, Big End . . .
while I'm heading for the woods beside the two reservoirs
The main path looks quite busy
I admire this garden every time I pass on the way into Barley
Lower Ogden Reservoir with a good display . . .
of flag iris
Entering the woods . . .
is this a modern take on a picnic bench?
Witch Finder by Marty Bednarczuk . . .
and a ceramic column
Anne Whittle nicknamed Chattox - given to chattering with her old decrepit teeth
One of two sculptures . . .
each named 'Reconnected'
Couldn't identify this one
Possibly 'Circle of Life'
Anne Redfern - accused of making a clay doll to kill a man
James Device - ate communion bread and was threatened by 'a thing in the shape of a hare'
John Bullock, said to have roasted stolen mutton at the Malkin Tower gathering on Good Friday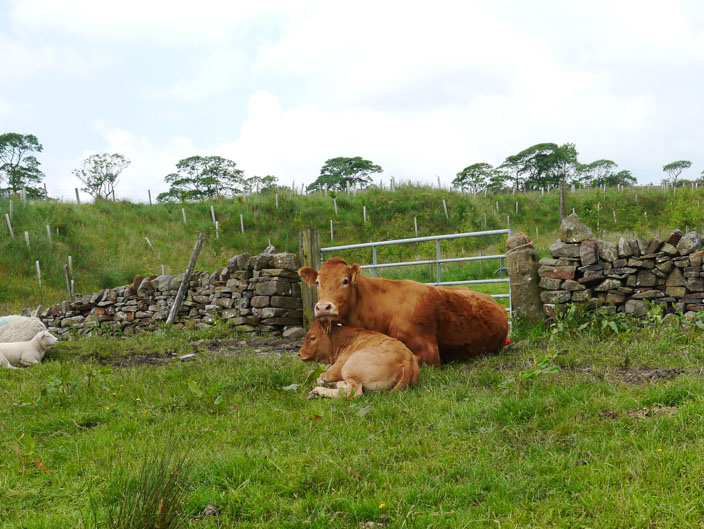 Motherly love
A new gate - but how do I get up to it . . .
knock a few nettles down to reveal the steps!
Walking through a buttercup meadow may sound pleasant - but these came up to my knees and had thistles growing amongst them - and I had shorts on!
Butterfly or moth?
Whichever they were there were lots around