Friday, 20th June 2014
Walk:
Scope End, Hindscarth, Littledale Edge, Robinson, Blea Crags, High Snab Bank
Start Point:
Little Town
Grid Reference:
NY 233 914
Distance:
7.8 miles
Ascent:
2,760 feet
Time:
4.25 hours
Weather:
Sometimes overcast with some rolling mist
Comments:
Time for a short walk before I headed home so I chose a couple of nearby summits that I haven't done for a while. An interesting ascent took me up Hindscarth, with a number of rocky/scrambly sections on the way. I had forgotten that Littledale Edge has quite such a long drop and climb onto Robinson - why does the mind make these ommissions??!! By the time I reached Robinson the hazy views had become misty - but of course everything had cleared by the time I was heading down to Blea Crags. A couple of tricky sections needed some care before the easier walking over High Snab Bank and back to the car.
Approaching Low Snab much of the walk can be seen with Hindscarth on the left and Robinson on the right
Across the Newlands Valley Causey Pike, where I went yesterday, is reaching into the mist
A couple of rocky outcrops then a more gradual path lead to the top
On the way I noticed that the rock underfoot is made up of . . .
different types of slate - which I had recently been reading about
Looking across to Grasmoor from the cairn, but this isn't the highest point . . .
the shelter takes that honour, with Dale Head to the left
So my photo has to be in the shelter!
More mist rolled in as I left the summit . . .
and joined the Littledale Edge path where I could see Buttermere with its attendent fells
Looking back to Hindscarth I spotted a diagonal path I could have taken - perhaps next time!
Buttermere and Crummock Water in the haze as I reached . . .
Robinson summit cairn . . .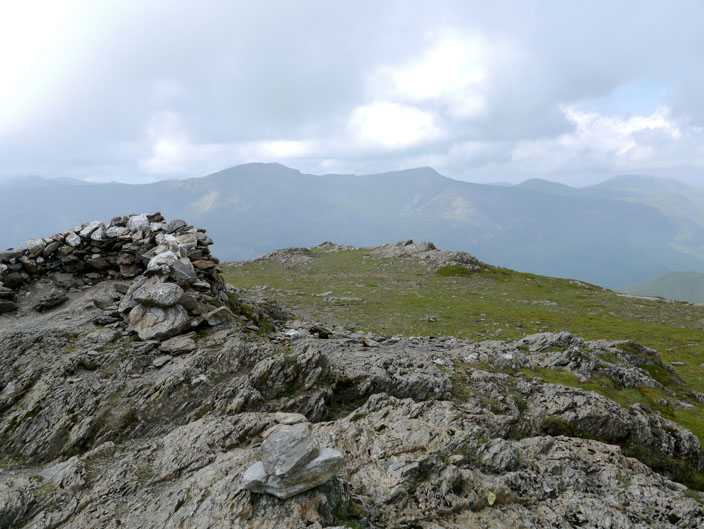 and shelter
But by the time I get round to a photo the mist has closed in
I'll have to check the book as it mentions these large slabs of rock