Tuesday, 11th November 2014
Walk:
Pyrford Village, Pyrford Locks, Wey Navigation, Walsham Lock, Ripley, Newark New Bridge, Wey Navigation
Start Point:
Old Woking
Grid Reference:
TQ 019 569
Distance:
13 miles
Ascent:
500 feet
Time:
5.25 hours
Weather:
Dull with some drizzle towards the end of the walk
Comments:
The route I chose from Old Woking to Pyrford turned out to be impassable just before reaching Pyrford and quite a bit of backtracking was needed. The name Pyrford means 'ford marked by a pear tree'. An early lunch was taken in the grounds of St Nicholas Church before continuing on past The Glebe and across the golf course. At Pyrford Lock I joined the Wey Navigation which links Guildford to the River Thames at Weybridge. Unfortunately the footbridge over the River Wey, which would have taken me to Ockham Mill, is no longer safe and it is unlikely that it will be replaced. Consequently I made my way to Ripley for a short refreshment stop before rejoining the Wey Navigation at Newark New Bridge. To avoid the possibility of more boggy ground I continued on the towpath to Cartbridge and returned to Old Woking by road - a good decision when I found that the end of the path I might have taken was a quagmire due to contractors vehicles carrying out some work there!
St Nicholas Church, a small Norman Church, was built around 1150 . . .
and was often visited by Elizabeth I
Today being 11th November, the wreaths have been newly laid
The church was built on a knoll and many of its original features remain
The Glebe, a timber framed cottage, dates from the 16th Century
Approaching the bridge . . .
at Pyrford lock . . .
where the water reaches the top of the gates . . .
and The Anchor Pub/Restaurant sits beyond the bridge
A jay searches for its dinner
Elizabeth I and the poet John Donne both stayed at Pyrford Place. The original house was pulled down replaced by a brick farmhouse. This building burnt down in the late 20th century and was rebuilt as the buildings visible today.
The small brick tower is an unusual structure, fourteen feet square, two storeys high with a first floor entrance and a distinctive ogee-pitched roof and is known as the 'Summer House',
The River Wey meanders beside the Wey Navigation
Walsham Gates is not a lock in the traditional sense. The gates are only operated as a flood lock to force water over the weir when water levels become too high so are both usually left open. The lock also retains the square structure that was wide enough to accommodate the big barges before the introduction of narrowboats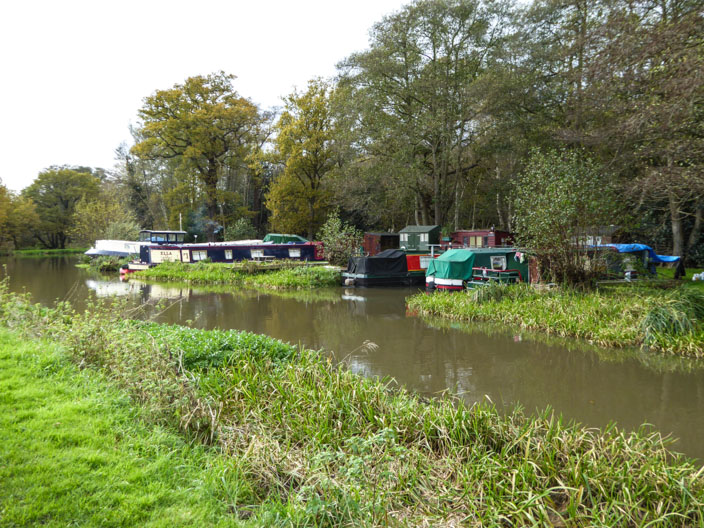 It is the last of the original turf-sided locks opened in 1653 that were common along the full length of the Wey Navigation
Walsham weir . . .
chanelling lots of water . . .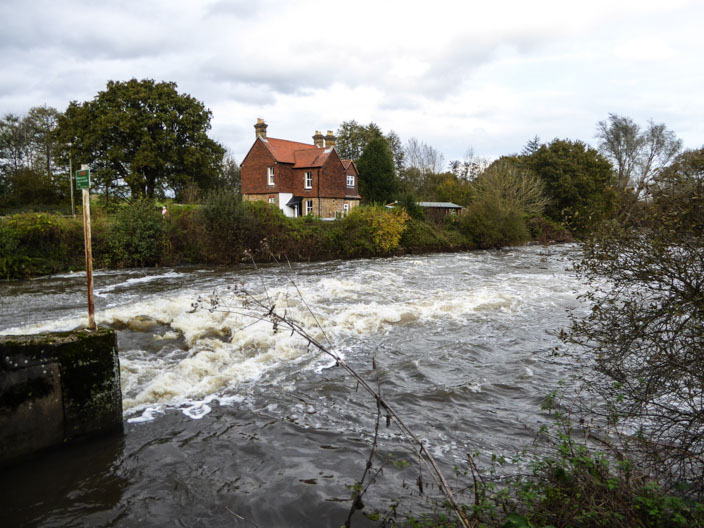 and from the other side
Newark New Bridge - replaced earlier this year