Sunday, 2nd November 2014
Walk:
Easedale Road, Easedale Tarn, Codale Tarn, Tarn Crag, Greathead Crag, Stythwaite Steps, Far Easedale
Start Point:
Grasmere School car park
Grid Reference:
NY 338 073
Distance:
9 miles
Ascent:
2,100 feet
Time:
6.25 hours
Weather:
Sunny spells with a short rain and hail shower
Comments:
12 members of the group joined me on the popular path to Easedale Tarn. Most of the group then carried on to Tarn Crag via Codale Tarn while one member explored the opposite side of the tarn before meeting us at Stythwaite steps. The views were great, from the gushing torrent of Sourmilk Gill to the distant fells in all directions.
The water is quite high in Easedale Beck today . . .
and Sour Milk Gill . . .
is showing signs . . .
of recent heavy rain . . .
giving lots of photo opportunities
The group continues to climb the 'tourist path' . . .
but pause at the larger waterfall . . .
where John checks out . . .
the turbulent pool . . .
while Ian and Robb inspect the top of the waterfall
Lots of berries still around for the birds
The sun enhances the colour of Easedale Tarn . . .
where the group gathers for a photo . . .
before continuing along to the opposite end . . .
where we stop for a morning break
Is Jenny pratising for the triple jump?
Phil decides to explore a lower path . . .
and heads down the opposite side of the tarn
The group continues up towards Belles Knott . . .
and Ray reflects on our route so far
Before long . . .
we cross the beck . . .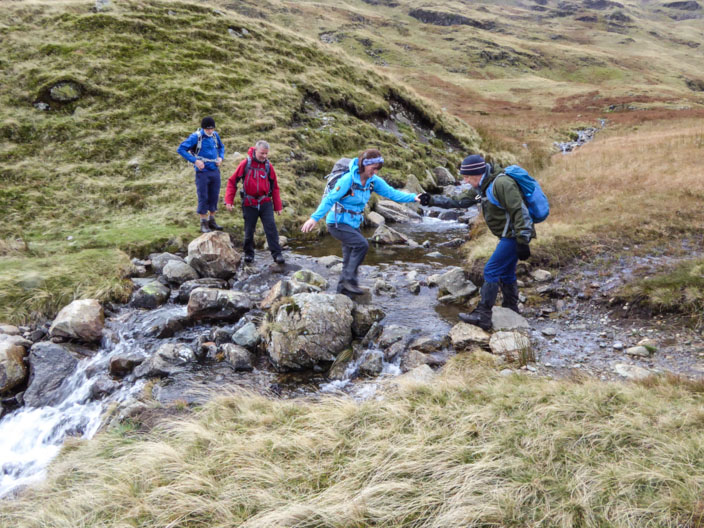 where Robb gives a helping hand
We take the path beside Codale Tarn . . .
but Ian explores Belles Knott . . .
and crosses the outlet from the Tarn at a lower point . . .
than the rest of the group
Looking back to Codale Tarn . . .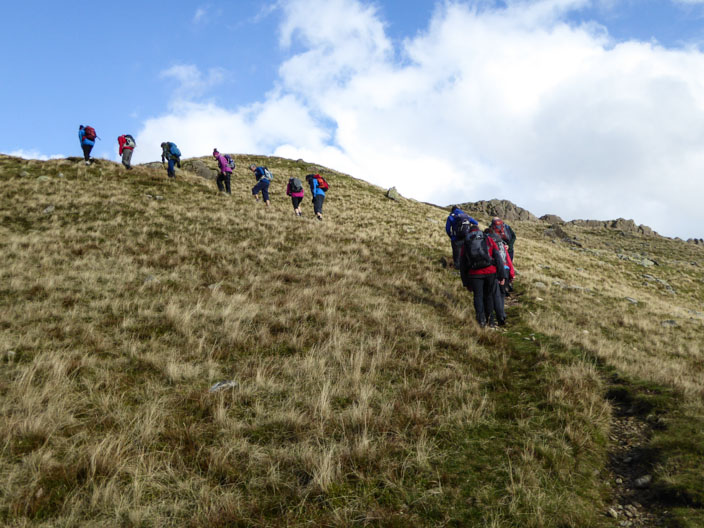 before we continue on the ascent . . .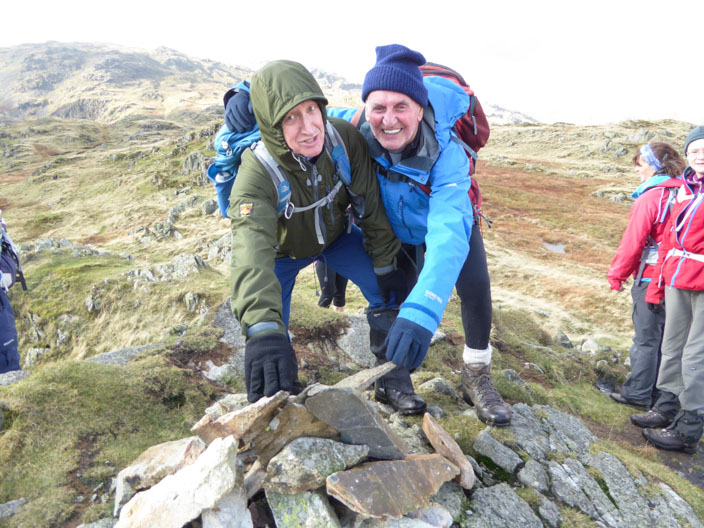 to Tarn Crag - another Wainwright for Robb to cross off . . .
and the ideal spot for a group photo . . .
and an individual one
Nearby there is a great view of Easedale Tarn . . .
but the weather has changed and we seek shelter - but who is under the umbrella ?
Ray
We descend on a grassy path . . .
with more views of Easedale Tarn
Wainwright mentions this rock in his guide book
Phil waits for us by the footbridge . . .
where there are views up Far Easedale . . .
and the group takes a short break
Making our way beside the beck . . .
more berries have escaped the birds so far . . .
and a sheep shows off its new hair colour
Back over the bridge and we are nearly at the end of the walk