Wednesday, 15th October 2014
Walk:
Hayeswater Gill, Hayeswater Tarn, Satura Crag, Beda Fell, Boredale, Ullswater lakeside path, Crookabeck
Start Point:
Hartsop
Grid Reference:
NY 410 130
Distance:
13.5 miles
Ascent:
3,400 feet
Time:
6.5 hours
Weather:
Dull with a very strong wind on the high fells
Comments:
The aim of this walk was to visit Hayeswater Reservoir which was in the process of being converted back to a tarn when I walked past it on 5th July. The work has now been completed and the reservoir once again looks more like a tarn and will make a lovely circuit once the exposed banking has become naturalised. To make a decent walk I added Beda Fell to the route and planned to return over Place Fell. However, due to the very strong wind on the summits I took the path beside Ullswater instead of heading for the summit.
Leaving Hatsop the Autumn colours are becoming prominent
Gray Crag looms ahead
Crossing Hayeswater Beck . . .
and on past the waterfalls . . .
with a closer look . . .
and the same waterfalls when water was being pumped from the reservoir in July
There certainly isn't as much water here now
Another waterfall . . .
where water swirls over the rocks . . .
and into a pool
The bridge was constructed during the process of converting the reservoir . . .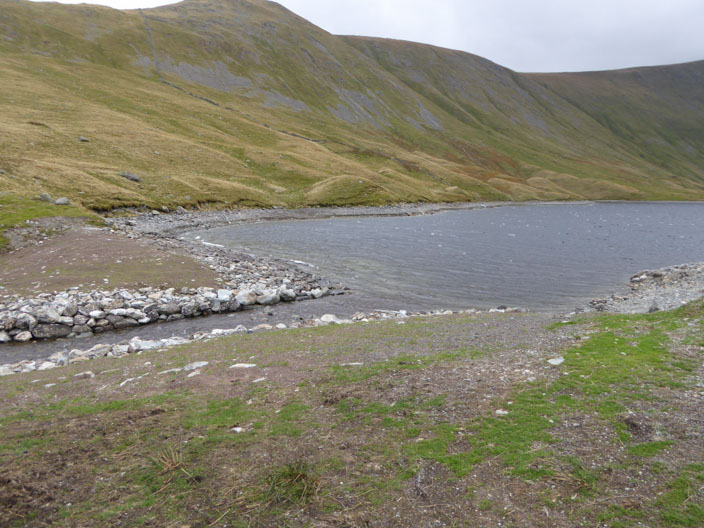 back to a tarn . . .
by reducing the level of the water . . .
and creating an outflow . . .
to the beck . . .
which can be crossed . . .
by carefully navigating the rocks . . .
orby a shallower section
A footpath circumnavigates the tarn . . .
seen again from a higher point . . .
and again in July with water pumps still at work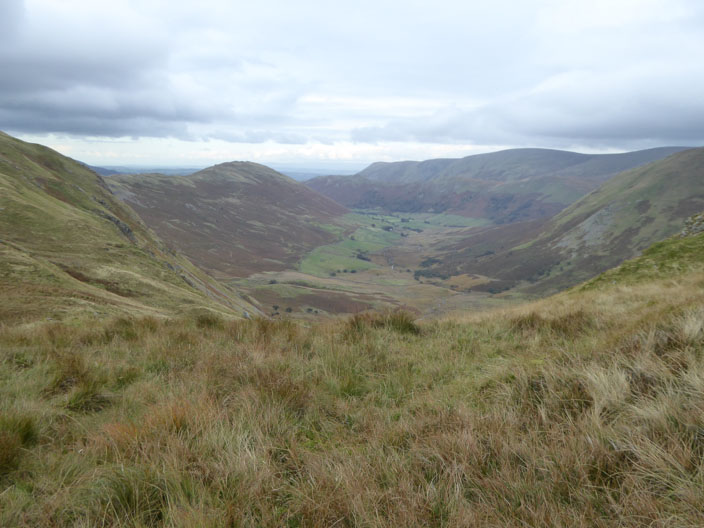 Martindale
Angle Tarn
Angletarn Pike looks quite different from the Beda Fell path
Glenridding comes into view . . .
as does the summit of Place Fell . . .
and the summit cairn
Beda Fell overlooks Hallin Fell and Ullswater . . .
and has views back to The Nab and Rampsgill Head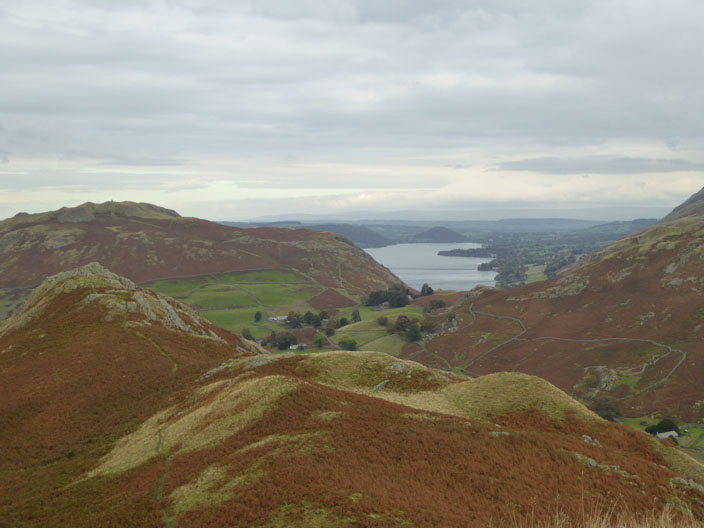 My lunch spot gives me the opportunity . . .
to try the zoom on Hallin Fell . . .
Walking beside Ullswater . . .
and past a colourful tree . . .
the route crosses a bridge . . .
and I take time . . .
to test out . . .
a macro shot
Looking back over the bridge . . .
before continuing along the path . . .
where I spot . . .
the ferry returning to Glenridding
Autumn colour . . .
out in force
Taking a break on Silver Point . . .
it looks like these young rowers are in training
Zooming in on Stybarrow Crag car park . . .
beneath Glenridding Dodd, a good path leads up through the trees . . .
where I took this photo in July
Glenridding - where the ferry seen earlier waits for passengers
Another training session - this time in kayaks
More Autumn colour . . .
as I make my way back to Hartsop