Sunday, 19th October 2014
Walk:
Longdendale Trail, Pennine Way, Laddow Rocks, Black Hill, White Low, Sluice below Waterhead Reservoir, Longdendale Trail
Start Point:
Torside Reservoir Visitor Centre
Grid Reference:
SK 068 983
Distance:
12.5 miles
Ascent:
2,420 feet
Time:
5.75 hours
Weather:
A mild and dry morning followed by heavy rain and strong winds then becoming dry and sunny for the end of the walk
Comments:
A walk of varied terrain from a disused railway track, now the Londendale Trail, to a narrow contouring path, a flagged route across boggy ground to a grassy trail. The weather was nearly as varied, starting out in dry but mild conditions, battling wind and heavy rain and becoming dry with some sun as we returned to the cars. An enjoyable walk with points of interest alomng the way.
Preparing to leave the car park . . .
and setting out along the Longdendale Trail . . .
where there are views back to Torside Reservoir
A turnstile from the past . . .
but we'll choose the other route
Disused quarry from the Pennine Way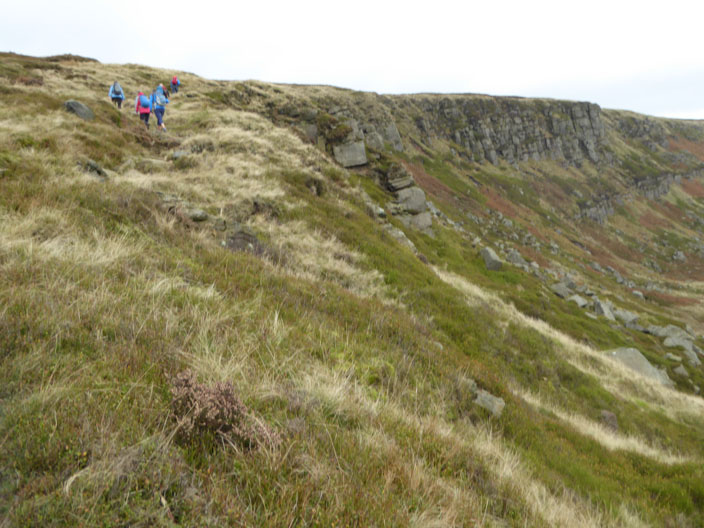 Approaching Laddow Rocks . . .
an exposed outcrop of rough moorland grit
and a closer look at the rocks formation
After a short break in the shelter of the rocks we continue on our way . . .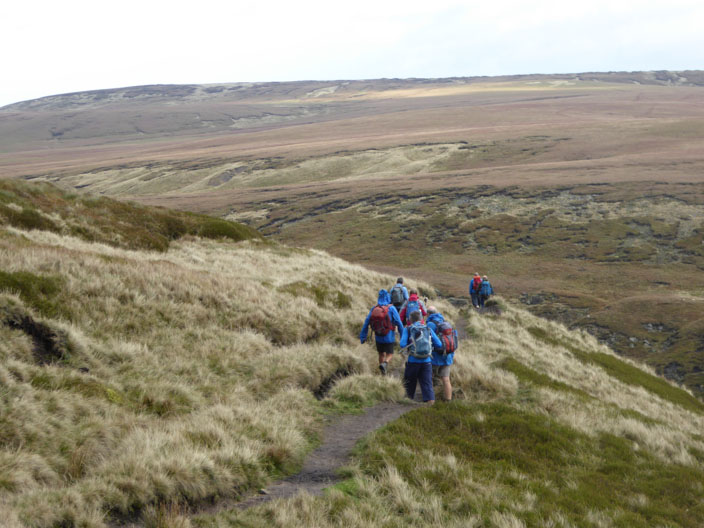 as the sun catches the bleak moorland on the opposite side . . .
of Crowden Great Brook . . .
which we follow to pass . . .
an 'umbrella' cairn . . .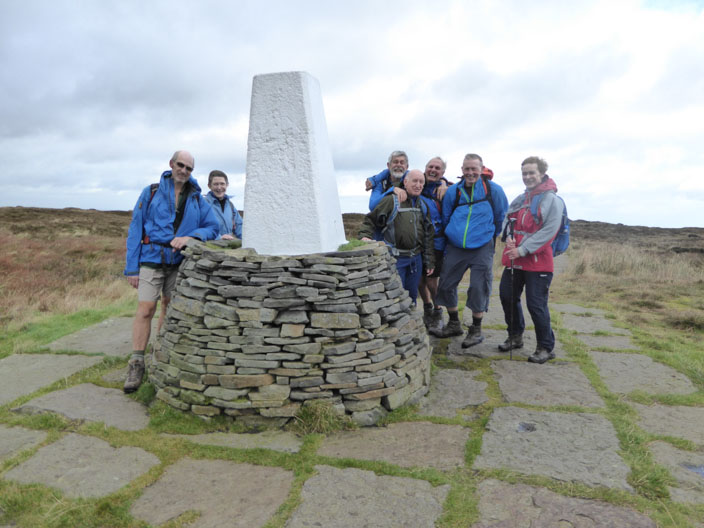 and gather for a group photo on Black Hill
Alfred Wainwright once wrote of Black Hill, 'no other shows such a desolate and hopeless quagmire to the sky, this is peat naked and unashamed'.
The Moors For The Future partnership have brought this once desolate and inaccessible moor back to life.
Holme Moss transmitting station, the highest in England
Reaching a cairn in the midst of the peat bog, minutes before the rain descends along with strong winds - so the camera is put away until . . .
the rain stops for a short time . . .
and we make the most of it, stopping for a quick lunch
The return route takes us past . . .
the disused quarry seen earlier
Crossing the bridge above . . .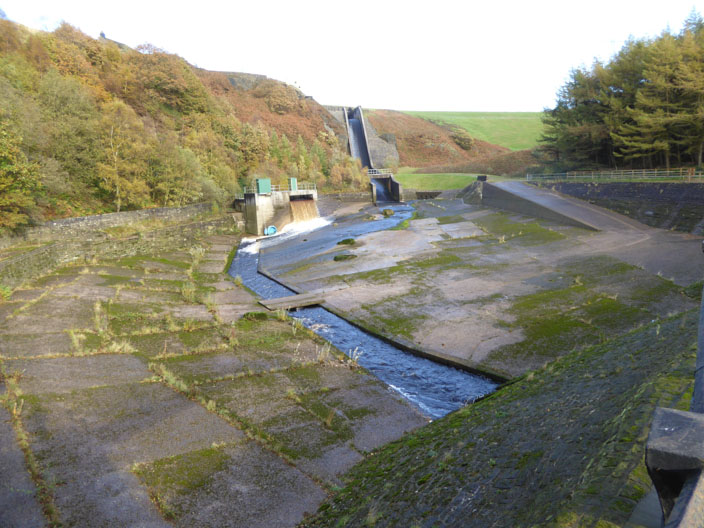 the sluice below Woodhead Dam . . .
where the various features . . .
are focal points for discussion . . .
before it is time to move on . . .
via the Longdendale Trail back to the cars