Tuesday, 23rd September 2014
Walk:
Keswick Boat Landing Stage, Friar's Crag, Calf Close Bay, Ashness Bridge, Surprise View, Ashness Gate, Lodore Falls, High Brandelhow
Start Point:
Moot Hall, Keswick
Grid Reference:
Distance:
8 miles
Ascent:
880 feet
Time:
4.25 hours
Weather:
Intermittent drizzle with some heavier rain in the afternoon
Comments:
With a poor forecast we decided on a low level walk around Derwentwater, visiting Ashness Bridge and the Lodore Falls. As the low cloud covered the mountain tops we enjoyed easy walking with only patchy light drizzle for a time. Crossing the bridge and duck boards at the lower end of the lake the forecast heavy rain reached us and our well-timed arrival had High Brandelhow coincided with the arrival of the launch which we took back to the Landing Stage - one could say this was excellent planning!!!! We enjoyed an excellent visit to George Fisher's Tea Rooms before browsing round the shops on our return to the car.
A launch prepares to leave . . .
as we pass the landing stage . . .
but I don't think there will be many takers for these boats today
Cat Bells from Friar's Crag . . .
where there is a memorial stone . . .
to John Ruskin
Lord's Island from Strandshag Bay
Fascinating intertwined tree roots . . .
exposed by ersosion
Life and Death in the Lakes
Ian crosses the pebbles . . .
to inspect the Centenary Stone . . .
which was half submerged when I was here in August
Shame I couldn't get a clear view of the robin which entertained us with its beautiful birdsong
Stopping on the lakeshore for our morning break . . .
the gull seemed to be threatening . . .
the Mallard duck . . .
which held its ground
I suppose on a went day you may as well be on the water!
Ashness Gate
This must have been a magnificent specimen . . .
as these two may become many years hence
A memorial to the well-known fell runner . . .
who created the 'Bob Graham Round'
Ashness Bridge . . .
and again
The nearby hut has been taken over as a modern art venue!
Sunlight catches the flanks of Cat Bells . . .
but it is misty over Keswick . . .
as we take in the views . . .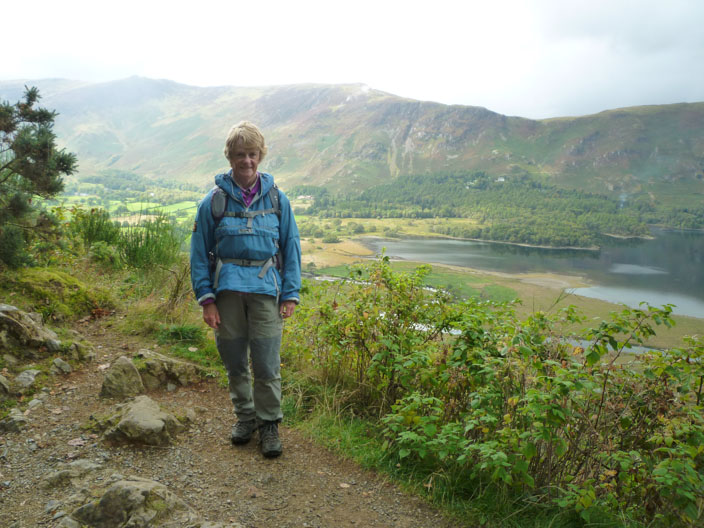 from Surprise View
Returning down the road - a colourful cottage . . .
and another view of Ashness Bridge
As we return to Ashness Gate the launch arrives . . .
but we continue along the lakeside path . . .
and spot another craft . . .
before visiting Lodore Falls - the perfect spot for lunch
A new bridge . . .
and duck boards provide a good route across to High Brandelhow - in heavy rain
Ashness Gate again - this time as we return to Keswick on the Launch