Thursday, 4th September 2014
Walk:
Deepdale Park, Hartsop Above How, Hart Crag, Fairfield, Cofa Pike, St Sunday Crag, Gavel Pike, Birks, Trough Head, Arnison Crag, Patterdale, Crookabeck
Start Point:
Deepdale Bridge
Grid Reference:
NY 399 143
Distance:
12 miles
Ascent:
4,040 feet
Time:
7 hours
Weather:
Intermittent sun but rather hazy
Comments:
Another good day forecast and another trip to the Lakes - this time to repeat my last walk over St Sunday Crag, this time doing it in reverse and adding a detour to Gavel Fell - a Birkett. Descending to Trough Head we also found a slightly different route towards the bottom of the descent, reducing the steepness and following a path more directly across to Arnison Crag. A very pleasant day but a shame that the haze over the fells did not completely clear.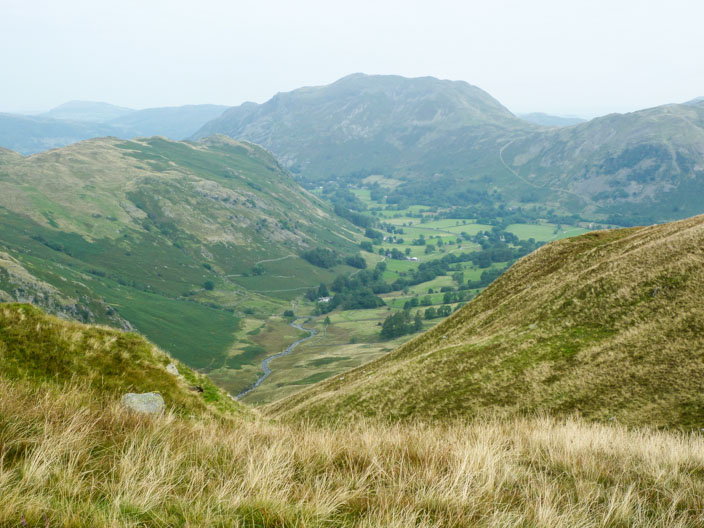 Deepdale and Place Fell from the climb to . . .
Hartsop Above How
Hart Crag on the left and the route to Fairfield on the right
Ian strikes a pose on . . .
Hart Crag
St Sunday Crag from Link Hause
Fairfield cairn and shelter
Taking the easier of the two routes from Fairfield to . . .
Cofa Pike - with views back to Fairfield
Grisedale Tarn
Descending from Cofa Pike . . .
to reach St Sunday Crag - covered in small flies
A detour takes us across to . . .
Gavel Fell . . .
where there is a plague of the small flies . . .
so we make a quick exit
Birks with Place Fell in the distance
Arnison Crag with Ullswater in the distance . . .
and Ian claims the summit
I don't think we will touch these . . .
but a couple of photos . . .
provides a good record of them
Testing an octocopter in Patterdale - unfortunately we didn't see it take off