Wednesday, 12th August 2015
Walk:
Gray Crag, Thornthwaite Crag, High Street, The Knott, Rest Dodd, The Nab, Satura Crag
Start Point:
Hartsop
Grid Reference:
NY 410 130
Distance:
10.7 miles
Ascent:
3,630 feet
Time:
7 hours
Weather:
Mainly sunny and hot
Comments:
With a really good weather forecast I decided on a walk from Hartsop to Gray Crag and Thornthwaite Crag. After passing High Street I decided to visit The Knott before heading for Rest Dodd and The Nab. Retracing my steps I made my way to Satura Crag before descending to Hartsop.
Looking back to Hartsop from the climb
Helvellyn and Catsye Cam . . .
and zooming in on Striding Edge . . .
and the final climb to Helvellyn
Gray Crag looking towards Thornthwaite Crag . . .
and again looking to the North-western Fells
Taking a quick break
Thornthwaite Beacon with Ill Bell and Froswick on the left
A microlight perhaps, with rotary blades?
Thornthwaite Beacon provides good views for a lunch stop
High Street . . .
and me!
Hayeswater with Gray Crag on the left
Great Gable
Haweswater with Kidsty Pike on the left . . .
and zooming in on the reservoir
The Knott . . .
and me!
Rest Dodd and The Nab
Rest Dodd
The Nab doesn't look very inviting from here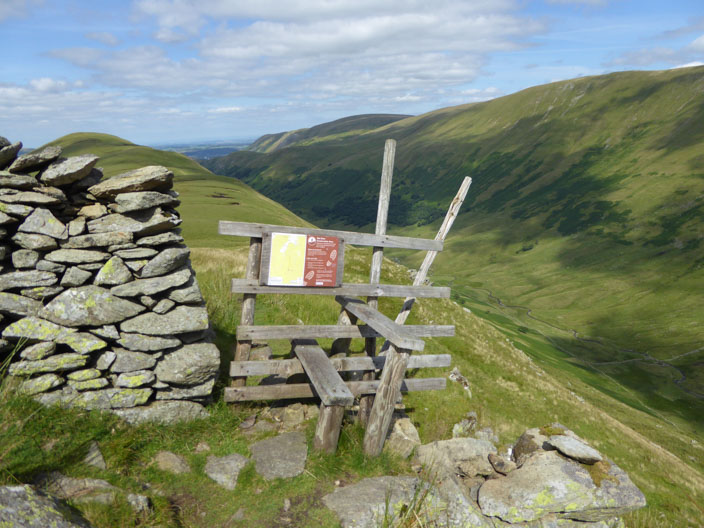 The stile looks rather wonky . . .
and no better from the other side!
The Nab . . .
and me again!
Gathering in the sheep
Hallin Fell stands at the head of the valley
Zooming down to the Hayeswater track, the waterboard is carrying out some work . . .
and the truck transports the soil down the track . . .
where it is expertly stored
The climb up to Gray Crag - the start of my walk