Monday, 31st August 2015
Walk:
Launchy Gill, Bell Crags, Ullscarf, High Raise, Sergeant Man, Calf Crag, Steel Fell, Steel End
Start Point:
Lay-by opposite Launchy Gill
Grid Reference:
NY 309 158
Distance:
13.5 miles
Ascent:
3,430 feet
Time:
8 hours
Weather:
A glorious morning becoming more overcast in the afternoon
Comments:
Heading straight up from opposite the lay-by a good path took me up to the balanced rock with great views over Thirlmere. From there the path was indistinct and eventually I just had to head upwards through the woods making walking very difficuly - hence 2 hours for the first 2 miles! Having reached Bell Crags the going was much easier if somewhat boggy. The route to Ullscarf and High Raise gave good views in all directions. A short stretch took me to Sergeant Man but the descent to Brownrigg Moss always seems to go on for ever. As it was 5pm by the time I reached Calf Crag a determined effort got me across to Steel Fell in 35 minutes. The descent was quite pleasant, not being too steep, then a trek along the road eventually brought me back to the car.
A well-made bridge . . .
takes me across Launchy Gill
Views of Thirlmere start to open up . . .
and the higher you get the better they are
Possibly an erratic -which looks quite precariously balanced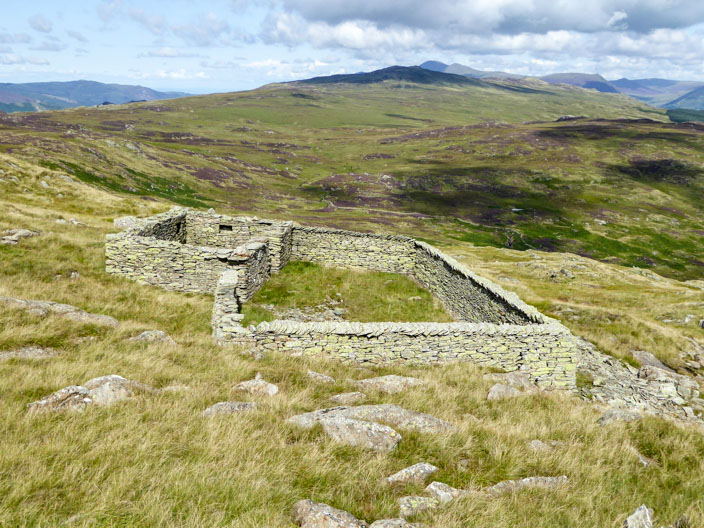 The walls seem to have been carefully restored - but what was it?
From Bell Crags there are views to Ullscarf . . .
and across the Borrowdale Valley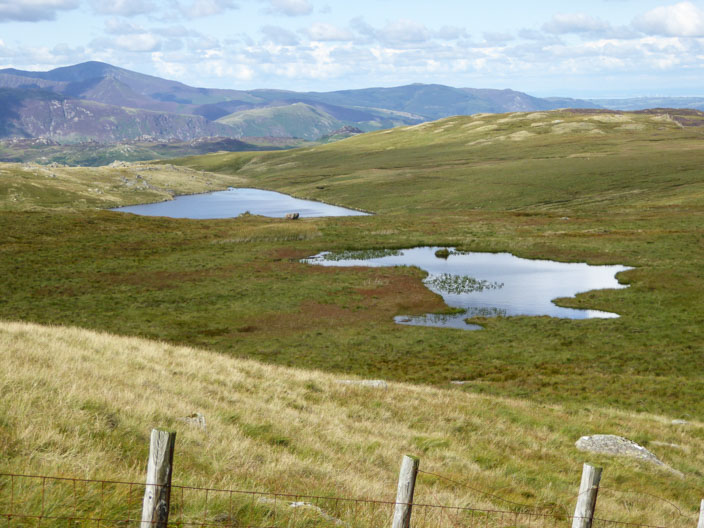 Blea Tarn
From a higher vantage point Derwent Water, Bassenthwaite,
The Solway Firth and Scotland can be seen
Looking over Blea Tarn to Skiddaw
Ullscarf . . .
and me . . .
and from a different angle
Zooming in on Skiddaw
Borrowdale comes into view
From High Raise, looking across the Langstrath Valley . . .
and turning south we see the Langdale Pikes
High Raise . . .
and me!
Sergeant Man . . .
and 'one for the album'
Calf Craf with Greenup Edge on the horizon . . .
where I take a quick break . . .
Steel Fell . . .
and a quickie for the album
Descending to Thirlmere