Tuesday, 20th January 2015
Walk:
Sour Howes, Sallows, Garburn Nook, Garburn Road (track)
Start Point:
Church Bridge, Troutbeck
Grid Reference:
NY 412 027
Distance:
6 miles
Ascent:
1,560 feet
Time:
4 hours
Weather:
Overcast in the morning becoming sunny in the afternoon
Comments:
A low level route taking in Sour Howes and Sallows for the first snowy walk of the year. The fairly light covering of snow made the initial climb more difficult than usual but the rest of the route was more enjoyable, especially when the sun managed to break free of the clouds.
Troutbeck Tongue from the Garburn Road
Windermere from Backstone Barrow
Approaching Sour Howes . . .
with more views of Windermere
Dave and Claire are heading in the opposite direction, aiming to run all the Wainwrights
A shot on the summit . . .
En route to Sallows the snow covered the slopes of Thornthwaite Cragcome into view . . .
and a closer view of the Kirkstone Pass
and from Sallows the sea can just be seen to the left of Windermere . . .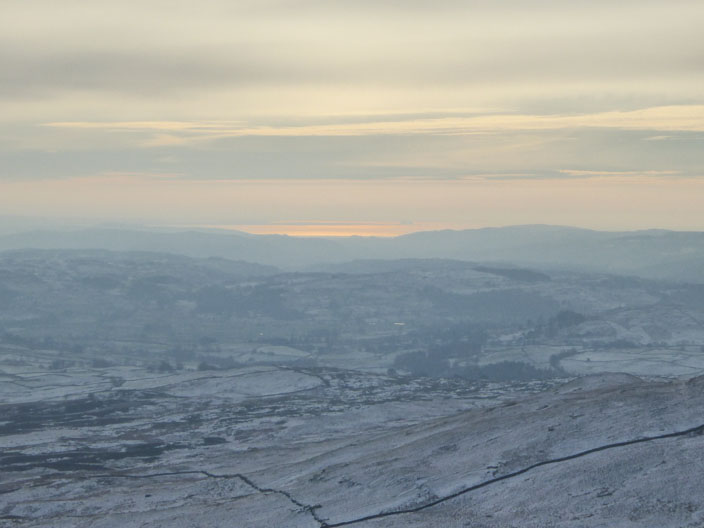 as the emerging sun highlights the water
Zooming in on Windermere from . . .
the summit of Sallows
Helvellyn can just be seen to the right of Fairfield
A last view of the summit of Sallows . . .
before heading to the Garburn Road . . .
A closer look at the slopes leading to Thornthwaite Beacon . . .
Icicles have formed at the sides . . .
of a narrow stream . . .
A final look at the Troutbeck Valley from a position close to that in the first picture