Sunday, 27th September 2015
Walk:
Whatshaw Common, Little Yarlside, Great Yarlside, Wasdale Pike, Harrop Pike, Lord's Seat, Robin Hood, High House Bank, Crookdale Bridge
Start Point:
A6 lay-by near Memorial
Grid Reference:
NY 554 062
Distance:
12 miles
Ascent:
2,300 feet
Time:
7 hours
Weather:
Sunny spells and quite mild
Comments:
This was a combination of The Crookdale Horseshoe and The Wasdale Horseshoe from Wainwright's Outlying rells Pictorial Guide Book. There were few paths and the walking was mainly over rough ground, boggy in places. The views were great with the Radar Station on Great Dun Felll being visible for most of the day.
The group checks out the Memorial . . .
at the end of the lay-by
Whatshaw Common, our first Outlying Fell . . .
marked only by my GPS
Some rough and boggy walking . . .
as we make our way towards . . .
Little Yarlside
Unusually the Trig station on Great Yarlside . . .
is marked by a circular metal plate sunk into concrete . . .
but the Outlying Fell summit . . .
is marked by a few rocks
Leaving Great Yarlside we head towards the wall corner . . .
where we find a good spot for elevenses
A detour from the route takes us to Wasdale Pike . . .
with good views to the Pennines and Cross Fell
Our next target is Harrop Pike . . .
not an Outlying Fell . . .
and usually visited from Gatescarth Pass
Leaving Harrop Pike . . .
a long rough walk with views to Borrow Beck . . .
takes us to Lord's Seat . . .
from where we can see our route to . . .
Robin Hood
Nearby there is a beacon . . .
which Wainwright mentions in his Outlying Fells book . . .
but my photo is not quite at the right angle to replicate his drawing . . .
but in the distance we can see Whin Fell . . .
as Robb takes in the scene
Tony takes a closer look at the small stack of rocks . . .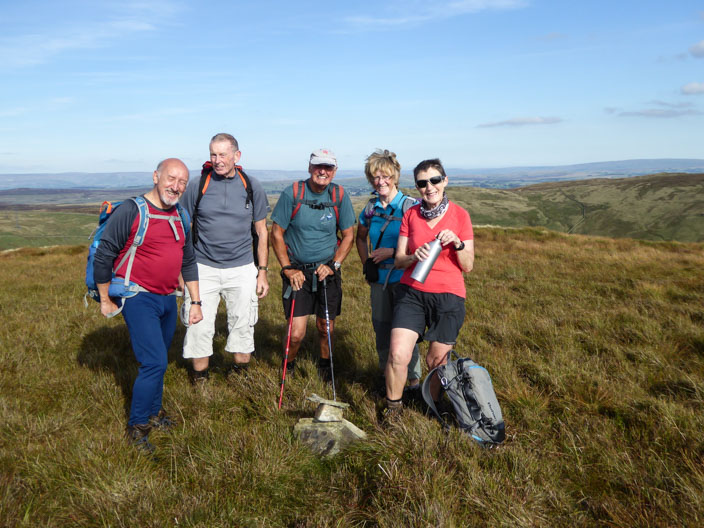 on High House Bank, the last summit of the day
Zooming in on the cars - about an hour's walk away
Just beyond High House Bank summit . . .
a more prominent cairn marks a good viewpoint
Crookdale Bridge . . .
which spans Crookdale Beck