Thursday, 3rd September 2015
Walk:

Having previously walked from Dockray to Gowbarrow Fell, Little Mell Fell and Great Mell Fell, today I just wanted to update summit photos so I did three separate walks, moving from one starting point to the next by car.

Starting north of Brownrigg Farm I took the main track to the summit tumulus then back down the same way. Moving on to The Hause I went straight up to the summit and back. Then it was on to Dockray where I parked beside the bridge to take the Aira Force path before diverting to climb beside the wall to the summit, returning the same way. All three summits were very windy, making photographing difficult - hence the 'Bad Hair Day' in all summit photos!

Start Point:
North of Brownrigg Farm
The Hause
Dockray
Grid Reference:
NY 407 246
NY 423 235
NY 392 215
Distance:
Great Mell Fell: 2.3 miles}
Little Mell Fell: 0.8 miles} 5.5 mls
Gowbarrow Fell: 2.4 miles}
Ascent:
1,020 feet}
420 feet } 2,260 feet
820 feet }
Time:
1.25 hours}
0.5 hours } 3 hours
1.25 hours }
Weather:
Dull and very windy
Comments:
Great Mell Fell is always a slog with the terrain changing little and just a few trees to pass on the way. However, there are some good views from the summit. Little Mell Fell is a much easier walk and it has a variety of routes on and off the summit if desired. Gowbarrow Fell is of more interest and the path has been well stepped on the steeper sections. These fells were completed on my way home after 3 days in the Lakes.
One of the typical trees on Great Mell Fell as I look back . . .
and another one as I head upwards . . .
to the summit . . .
marked as a tumulus on the map
Returning by the same route . . .
there are a variety of trees of all shapes and sizes
A quick half mile brings me to the summit . . .
of Little Mell Fell . . .
where it is even windier than Great Mell Fell
Ullswater from the descent
Dockray has been festooned with yellow bikes - following the Tour de France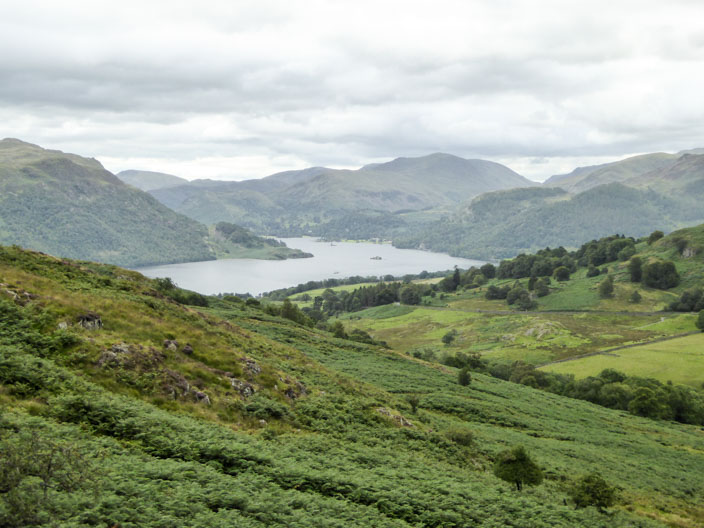 Ullswater
Gowbarrow summit loking to the north end of Ullswater . . .
and back the way I have come . . .
then across to Great Mell Fell on the left and Little Mell Fell on the right
Colourful heather as I retrace my steps to the car