Wednesday, 20th April 2016
Walk:
River Hodder, Kearsden Holes, The Height, Bowland Knotts, Cold Stone, Raven's Castle or Crowd Stones, Cross of Greet
Start Point:
Cross of Greet Bridge
Grid Reference:
SD 702 590
Distance:
8.6 miles
Ascent:
1,500 feet
Time:
5 hours
Weather:
Sunny and warm all day
Comments:
Walking was a little rough for the early part of the walk - especially when I took a wrong turning! A gradual climb took us up to the rocky outcrops of Bowland Knotts - just next to Keasden Road, Cold Stone provided the perfect place for lunch before the long ascent to Raven's Castle, when Sheila managed to find the deepest muddy patch of the whole walk!! After descending to the road we quickly made our way back to the car.
Kearsden Holes . . .
joins the River Hodder . . .
just as we leave its banks
Unusual lime kiln
Approaching Bowland Knotts . . .
where we take a short break . . .
enjoying the sun
Leaving the Knotts behind . . .
we head across to the trig point . . .
with views back along our route
Approaching Cold Stone . . .
where we stop for lunch . . .
and admire the view . . .
back to the trig point
A lucky quick point and shoot captures two RAF jets
One rock doesn't make a castle!!!
The base for the Cross of Greet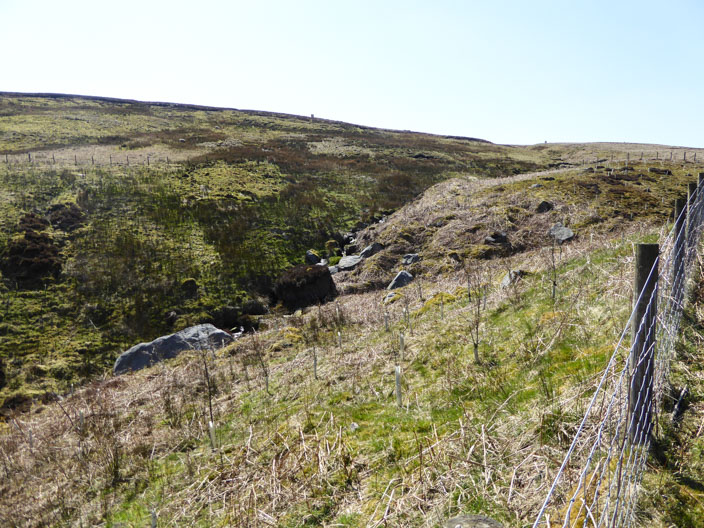 Soon after joining the road tributaries meet to begin to form . . .
the River Hodder
The dog enjoys the ride . . .
in his master's Morgan
Not quite in the same class!
The River Hodder has grown . . .
by the time we reach the Cross of Greet bridge - and the car