Tuesday, 16th August 2016
Walk:
Brothers Water, Hartsop Hall, Dovedale, Dove Crag, High Bakestones, Little Hart Crag, High Hartsop Dodd, Hartsop Hall, Brothers Water
Start Point:
Cow Bridge car park
Grid Reference:
NY 403 133
Distance:
8 miles
Ascent:
2,540 feet
Time:
6 hours
Weather:
Sunny and hot
Comments:
The target for today was to find The Priests Hole (Cave), but despite time spent exploring the area we were unable to locate it. Due to the time we had spent looking and the hot weather conditions it was decided to complete the walk via Dove Crag, Little Hart Crag and High Hartsop Dodd.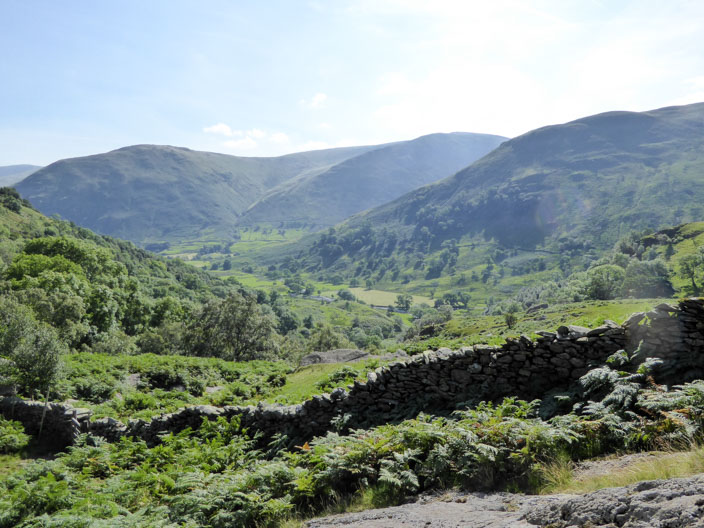 Looking back down Dovedale before . . .
pausing by a waterfall . . .
for a couple of photos
Marie and Katy join Lily and Feather on Dove Crag
Arriving at High Bakestones . . .
we look for a comfortable spot for our morning break
Then we descend to Little Hart Crag . . .
where I join 'the girls' on the summit cairn
Brothers Water comes into view beyond High Hartsop Dodd . . .
and looking east we can just see Kidsty Pike on the horizon
Marie takes time out for a little 'foot surgery' . . .
before continuing on to High Hartsop Dodd summit - but little time for photos
due to the thousands of flying ants in large swarms
The end is in sight . . .
as we make our way down . . .
pausing to admire the patterns created by hay-making activities . . .
near Hartsop Hall Farm . . .
where the bales are being wrapped in black plastic . . .
and lined up ready to be stored away