Sunday, 21st August 2016
Walk:
Pennine Way, Fountains Fell, Darnbrook Fell, New Bridge, River Skirfare, Littondale, Arncliffe, Monk's Road, Malham Tarn House
Start Point:
Disused quarry near Malham Tarn
Grid Reference:
SD 883 671
Distance:
16.3 miles
Ascent:
2,560 feet
Time:
7.75 hours
Weather:
Morning mist and rain becoming dry with sunny spells in the afternoon
Comments:
Even though it was a reasonable forecast it wasn't long before we had walked up into the mist and drizzle. After a heavier shower the weather began to improve and the afternoon was warm and dry. The terrain was rough in places but often on good footpaths. The long boardwalk between Malham Tarn House and the cars would be full of interest in early summer.
On the Pennine Way we can just see Malham Tarn in the distance
Rain and mist interrupt our coffee break . . .
and follow us to Fountains Fell
Good job this deep hole is fenced off!
Heading towards Darnbrook Fell . . .
the mist lifts to give a view of Pen-y-Ghent . . .
and there's even a hint of sun on Darnbrook Fell . . .
where severe erosion has exposed the footings of the trig point
New Bridge is the perfect spot . . .
for our lunch break . . .
where I try a spot of experimenting . . .
with photos of the waterfall . . .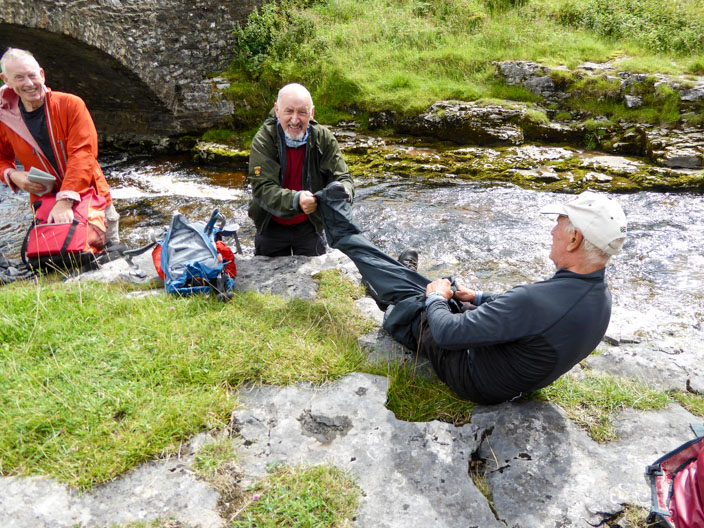 but Tony seems to be having a little difficulty in removing his overtrousers!
Our route the takes us beside the River Skirfare . . .
to Arncliffe
Looking back to Littondale as we head up the Monk's Road . . .
to reach Malham Tarn