Tuesday, 12th July 2016
Sgwd yr EiraWalk:
Nedd Fechan, Pont Meli fach, Pont Rhyd-y-cnau, Sgwd Clun-gwyn, Hendre-bolon, Sgwd Isaf Clun-gwyn, Sgwd yr Eira
Start Point:
Pontneddfeccan
Grid Reference:
SN 902 077
Distance:
12 miles
Ascent:
1,750 feet
Time:
6 hours
Weather:
Mainly overcast with a little sun
Comments:
A very varied mainly in tree. The terrain varied from wide laid track to undulating muddy rocky sections to countless steps to road. Headin north beside the river gave lots of opportunities to see small waterfalls and fast flowing water as well as the more spectacular waterfalls. The highlight of the day was the Sgwd yr Eira where it is possible to walk behind the cascading water - preferably with waterproof on!
Starting beside the Nedd Fach . . .
we pass small . . .
and larger waterfalls . . .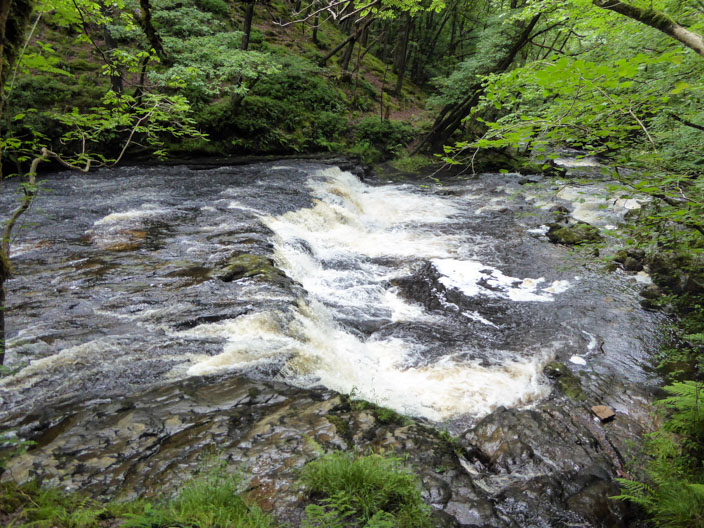 as the water travels swiftly downstream
At the far end of our walk we reach Sgwd Clun-gwyn . . .
seen again from the opposite side
The highlight of our walk Sgwd yr Eira . . .
is very impressive . . .
though we can already feel the spray . . .
as we walk closer . . .
and finally behind . . .
the waterfall