Saturday, 16th July 2016
Walk:
Ratlinghope, The Hollies, Stiperstones Ridge, Devil's Chair, Manstone Rocks, Cranberry Rock, Kinnerton
Start Point:
Bridges
Grid Reference:
SO 393 965
Distance:
8.5 miles
Ascent:
1,630 feet
Time:
5 hours
Weather:
Cool in the morning, improving in the afternoon
Comments:

The Stiperstones Ridge rises to 1,785 feet and is crossed by a rocky path punctuated by outcrops of wild jagged tors. The most prominent quartzite outcrop is The Devil's Chair. Local legend attributes the creation of these giant rock piles to the Devil himself, who is said to have rested here during journeys between Ireland and England. Once, he decided to fill one of the valleys nearby, Hell's Gutter, with rocks carried in his apron from the Emerald Isle, but was foiled when its strings broke.

A very enjoyable walk with some scrambling on The Devil's Chair and Manstone Rock.
Youth Hostel at Bridges
A 'naturally camouflaged' tank
Our first view of The Stiperstones . . .
which are reached via a rocky path
Marie . . .
and I scramble to . . .
the first high point . . .
in this rocky outcrop
Viewed end-on this outcrop . . .
can be recognised as The Devil's Chair
Heading for the Manstone Rocks . . .
where Marie and I climb . . .
to the trig point . . .
seen again from below
Cranberry Rocks mark the start of our descent . . .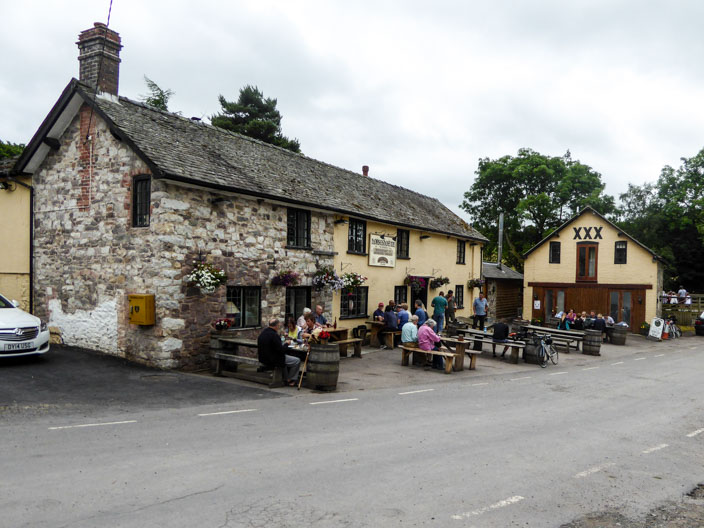 and walk back to the car park opposite The Horseshoe Inn