Friday, 8th July 2016
Walk:
Clifton Suspension Bridge, Nightinglae Valley, Avon Gorge, Leigh Woods, Cliton Suspension Bridge, Clifton
Start Point:
The Promenade
Grid Reference:
Distance:
7.5 miles
Ascent:
660 feet
Time:
3.5 hours
Weather:
Sunny and warm
Comments:
Unfortunately the Clifton Suspension Bridge was closed to traffic and the work being carried out detracted a little from the views. It was a very pleasant walk through Nightingale Valley to reach the path alongside the river. From here we could see the diagonally angled strata on the opposite side. Wide tracks run through Leigh Woods and, for future reference, there are lots of places here for free parking.
Parking on the Promenade we soon have views of the Avon Gorge . . .
and the Clifton Suspension Bridge
Passing the Observatory . . .
we check out another viewpoint . . .
of the bridge
Painting will take a long time . . .
when you see the size of the roller being used
Checking back across the bridge before continuing on . . .
past the 'Grand Houses' where we find one built in an Alpen stile
Nightingale Valley leads down to . . .
the riverside path . . .
where we spot a few orchids
The gorge cuts through a ridge mainly of limestone . . .
with some sandstone . . .
The River Avon eventually reaches the Severn estuary . . .
at Avonmouth
Some very determined trees protrude from the wall
Heading back across the bridge . . .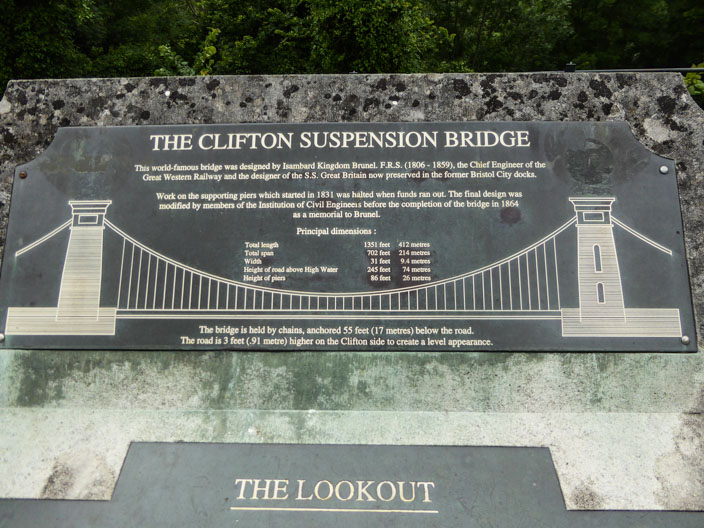 a plaque provides some information
Making our way down the Cheddar Gorge . . .
Somerset's own Grand Canyon . . .
and the single most impressive feature . . .
in southern England