Friday, 11th March 2016
Walk:
Bare House, Bycliffe, Mossdale Scar, Swarth Gill, Conistone Moor, Dales Way, Conistone Pie
Start Point:
Grassington NCP
Grid Reference:
SE 002 637
Distance:
13 miles
Ascent:
1,640 feet
Time:
6 hours
Weather:
Sunny spells with snow on the higher ground
Comments:
A varied walk on green paths, tracks and through snow. The route makes its way through ancient field systems, beside escarpments, across moorland and along a section of the long distance footpath, The Dales Way. The beginning and the end of the walk enjoyed pleasant sunshine (de-layering needed) whilst the middle section through snow met with a cool wind (on with the coat, hat, etc).
Perhaps a little early for a few more flowers?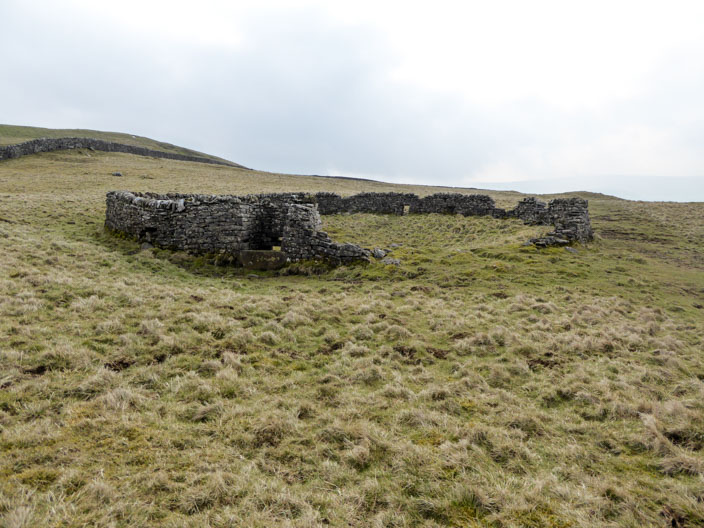 A distinctive circular structure . . .
has an unusual access point
Bare House, a derelict farmhouse . . .
and is this the Bath House?
A normal looking gate, but in 2010 . . .
we didn't need to open it
The enclosed lane looked quite different . . .
in 2010
Patchy snow on the nearby hillside . . .
but looking north, possibly GreatWhernside, boasts a much heavier coating
Important information
Reaching Mossdale Scar . . .
where Mossdale Beck . . .
disappears . . .
under the rock face . . .
to the right . . .
and below the rock face . . .
straight ahead
Leaving Mossdale Scar and Mossdale Beck behind . . .
I continued towards . . .
another derelict building . . .
and onto the moors, past the grouse butts
After crossing Swarth Beck . . .
the path heads through the remains of a disused quarry
Leaving the moorland behind the footpath sign points the way across the snow . . .
and down to the Dales Way
The limestone outcrop is known as Conistone Pie . . .
with the right hand edge looking like a face
The top of the 'Pie' is covered in grass . . .
but photos on top don't do it justice
A steep descent to join Scot Gate Lane for Conistone
A useful piece of information . . .
next to the lime kiln