Sunday, 20th March 2016
Walk:
Hollinshead Hall (ruin), Roddlesworth Reservoirs, Rake Brook Reservoir, Abbey Village, Tockholes, Sunnyhurst Wood, Darwen Tower, Darwen Moor
Start Point:
Crookfield car park
Grid Reference:
SD 665 191
Distance:
12 miles
Ascent:
1,900 feet
Time:
5.75 hours
Weather:
Mainly sunny with a cold breeze in exposed areas
Comments:
Group walk when I was joined by 9 members. With a good dry spell in previous days the ground was reasonably dry and the sunny spells reinforced the fact that Spring is now here, today being the Spring Equinox
Are we ready?
Crossing the River Roddlesworth . . .
to walk through the woodland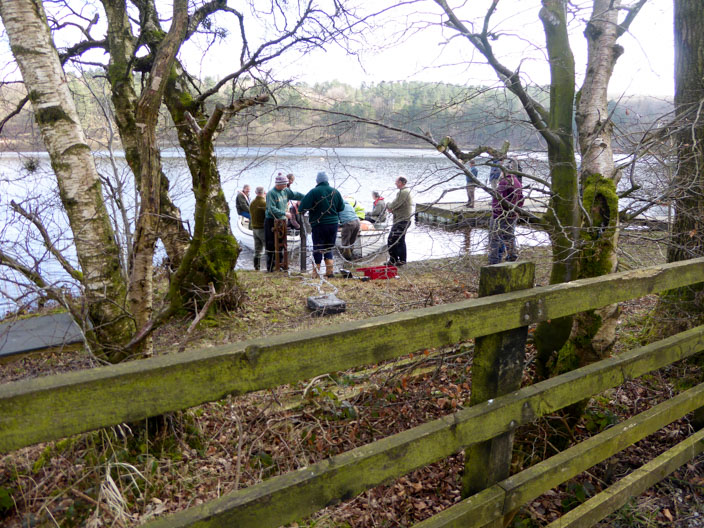 At Roddlesworth Reservoir work is being carried out . . .
to renew the chain that is connected to the boats usually anchored in the reservoir
Trees block the view of the bridge and its reflection . . .
but a closer vantage point gives a better view . . .
and again from the opposite side
Making our way past Rake Brook Reservoir . . .
we poise for a photo near the Hare & Hounds in Abbey Village
Another bridge takes us across a deep valley
A couple of miniature donkeys are moving home . . .
and this lamb is sporting the latest in rainwear - actually used to prevent hypothermia, the biggest killer of young lambs in the UK
Another pub - to walk past
Darwen Tower comes into view . . .
before the stony descent to Sunnyhurst Wood . . .
with its bandstand
Darwen Tower . . .
where the group enjoys lunch in the sun
Darwen from the trig point beside the Tower
Heading across Darwen Moor . . .
to cross one of the many stiles . . .
before joining Witton Weavers Way . . .
and enjoying a short break before returning to the cars