Sunday, 8th May 2016
Walk:
Mickleden, Angle Tarn, Esk Hause, Great End, Esk Hause, Angle Tarn, Rossett Pike, Stake Gill, Mickleden
Start Point:
Old Dungeon Ghyll Hotel NT car park
Grid Reference:
NY 286 060
Distance:
12.6 miles
Ascent:
3,800 feet
Time:
7.5 hours
Weather:
Sunny and hot with a warm breeze on exposed sections
Comments:
A great weather forecast and a Wainwright last done in 2005, a chance too good to be missed, so I joined the group for this walk. The long trek up Rossett Gill seemed to take forever but the climb was worth it. The 360 degree views from Great End were magnificent.
Crinkle Crags from Old Dungeon Ghyll car park . . .
and taking a closer look
Rossett Pike from Mickleden
Catch up stop as we start the climb . . .
up Rossett Gill . . .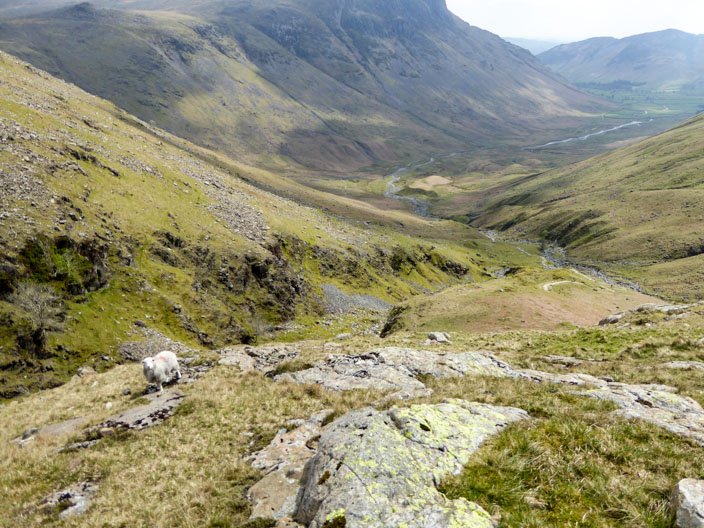 and looking back down the valley
Stopping for elevenses as we near the top . . .
but soon it is time to move on
Great End just comes into view as we approach Angle Tarn
A chance to look back to the Langdale Pikes . . .
and the perfect opportunity to test out the zoom
Approaching Great End . . .
but first a bank of snow . . .
which John can't resist
Scafell Pike comes into view . . .
and the summit is starting to get busy
Great End summit . . .
where I collect one for the album . . .
before checking out the surrounding views . . .
and take another look at Scafell Pike . . .
which is getting really busy now
Looking back to Great End, surrounded by a boulder field
Time for lunch at the shelter . . .
and the Langdale Pikes come back into view as we retrace our steps
John spots a cigar shaped cloud above the Langdale Pikes
Returning past . . .
Angle Tarn . . .
with the Great Slab catching the sun
The group approaches Rossett Pike . . .
and take time out for . . .
a group photo . . .
and Tony takes a look . . .
down the valley
A catch up stop before our final descent