Sunday, 27th November 2016
Walk:
Hartsop Hall, Dovedale, Priest's Hole, Houndshope Cove, Hartsop Above How, Bleaberry Knott, Deepdale Bridge, Low Wood
Start Point:
Cow Bridge car park
Grid Reference:
NY 403 133
Distance:
8 miles
Ascent:
2,300 feet
Time:
6.5 hours
Weather:
Mainly overcast, becoming colder at the higher levels
Comments:
Repeating a previous walk on 1st September, this time with the group, conditions were very different with deep snow in places. This time we took the lower path and were able to see the waterfalls on Dovedale Beck. After visiting The Priest's Hole we found deep snow as we headed across Houndshope Cove to Hartsop Above How. Following the ridge down, the terrain became easier as we descended Bleaberry Knott and eventually left the snow behind.
Joining the group for today's walk, from the car park . . .
there are views beyond Brothers Water to Middle Dodd . . .
and back down the road to Gray Crag and Hartsop Dodd
A good track leads us into Dovedale . . .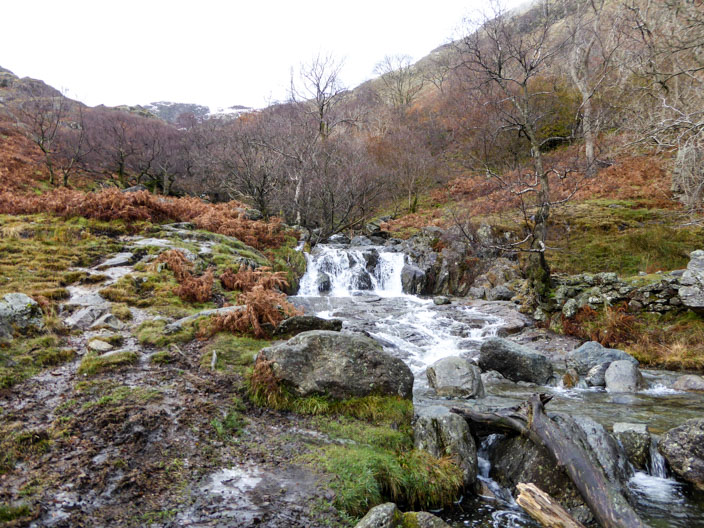 and beside Dovedale Beck . . .
where it is time to take a layer off
Passing the small waterfall on Dovedale Beck . . .
we soon reach a more impressive one
From higher up the sun catches the flanks of Hartsop Above How . . .
but our route soom becomes steeper with deeper snow
Taking a break at The Priest's Hole . . .
where Kath takes in the views . . .
to Hartsop Dodd and the fells beyond
From inside the cave . . .
before we make our way back down the snow covered climb . . .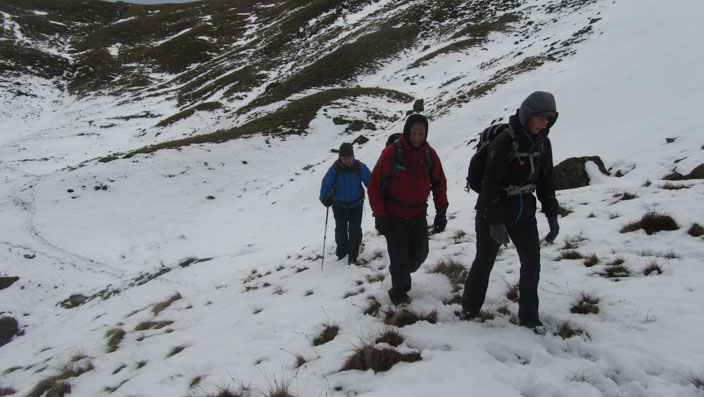 and across the cove to the flanks of Hartsop Above How . . .
where we pause to look back to the cave
Lunch over, it's time to move on . . .
as low cloud creeps down from Hart Crag (fortunately it cleared again)
Taking in the summit . . .
we eventually leave the snow behind as we descend Bleaberry Crag . . .
and make our way through Low Wood and back to the cars