Sunday, 16th October 2016
Walk:
Turbary Road, Kale Pot, Jingling Pot, Yorda's Cave, Whernside, Twistleton Scar End
Start Point:
Kingdale
Grid Reference:
SD 691 757
Distance:
13 miles
Ascent:
2,900 feet
Time:
6.5 hours
Weather:
Wet and windy in the morning clearing to sunny spells in the afternoon
Comments:
With a wet and windy morning we were pleased to find that there was a rocky overhang at Yordas Cave where we could enjoy our morning break in the dry. The cave is well worth a visit but a torch is essential as it is completely dark after only a few feet. The cave is very big and roght at the back is an opening where you can view a waterfall.
The route up to Whernside was somewhat tedious in a heavy drizzle but the shelter on the summit was handy for our lunch stop. Heading towards Scar End the weather improved and we had good views of Ribblehead Viaduct and Ingleborough.
Kale Pot
Wet and windy
Arriving at Yordas Cave . . .
at least we can get out of the rain . . .
as we explore the waterfall . . .
and the opposite wall where calcite has formed as the water seeps through the limestone and runs down the wall
Making our way back through the cave . . .
we find that it is still raining . . .
so we take advantage of the overhang . . .
for our morning break
Local resident
A wet Whernside . . .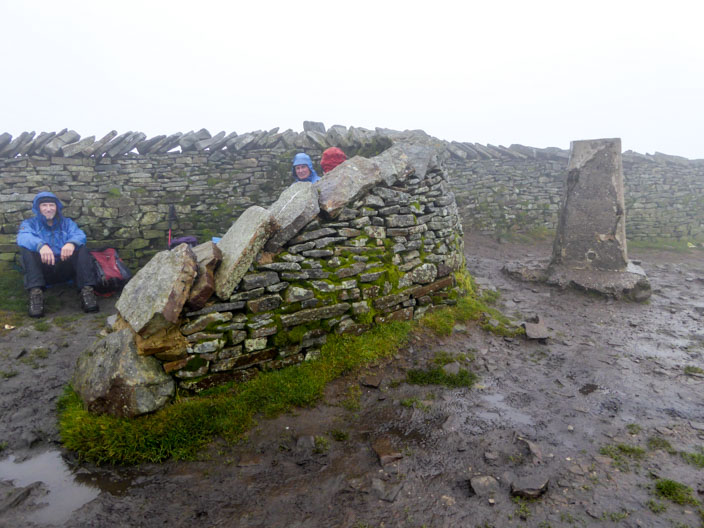 with room in the shelter . . .
to eat our lunch
Cloud covers the top of Ingleborough . . .
as we descend the flanks of Whernside . . .
but before long the weather has improved . . .
and we end up with good views of Ingleborough