Sunday, 2nd October 2016
Walk:
Dovestone Reservoir, Yeoman Hey Reservoir, Greenfield Reservoir, Holme Clough, Raven Stones, Great Dove Stone Rocks, Chew Reservoir, Alphin Pike, Oldham Way, Chew Plantation
Start Point:
Dovestone Reservoir car park
Grid Reference:
SE 013 034
Distance:
12.5 miles
Ascent:
1,800 feet
Time:
6.5 hours
Weather:
A cold start becoming a sunny and mild day
Comments:
We were treated to the perfect day for this walk. The blue waters of the reservoirs shimmered in the sun while the interesting rock formations invited lots of photos and enhanced the views of the reservoirs.The scamble up Holme Clough was very enjoyable, being reasonable easy apart from the slippery rocks which needed some respect. A very enjoyable day.
Let's get started!
Dovestone Reservoir
A little colour attracts our attention
Climbing beside the beck in Holme Clough . . .
Ian leads the way . . .
and care is taken crossing the beck
Making our way through heather we spot a precarious looking rock . . .
but it is firmly attached . . .
and is quite close to the path
Fell runners makes their way up the clough
Looking down to Greenfield Reservoir
Stopping for our morning break . . .
gives the fell runners time to catch us up
Lots of activity . . .
on Dovestone Reservoir
Memorial Cross
More great rock formations . . .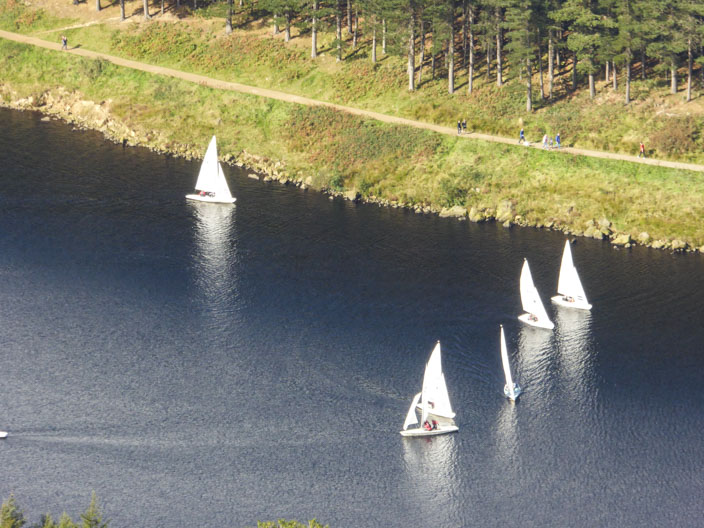 and the opportunity to take a closer look at the sailors . . .
before reaching another vantage point
Looks like the sailing event has finished as the boats create a circle
Cairn on Fox Stone (and me)
The group explores . . .
a possible house ruin
Could this passage lead to the back door?
The occupants would have to be very thin!
Les and Lesley discuss a possible renovation while Ian checks out the roof . . .
and what a fabulous view
Arriving at Chew Reservoir . . .
a duck poses for a photo . . .
and the banking is the perfect spot for our lunch stop
Chew Road leads down to Dovestone Reservoir . . .
but we stay above the escarpment . . .
to explore more rock formations . . .
and take in the great views
A large expanse of exposed rock . . .
provides more views of the reservoir . . .
and is the perfect spot . . .
for a bit of rock climbing . . .
and another view of the reservoir . . .
before it is time to move on . . .
and one last view if the reservoir
Someone put a lot of effort into this stile
A well kept trig point . . .
at Alphin Pike