Thursday, 1st September 2016
Walk:
Dovedale, Priest's Hole, Hart Crag, Hartsop Above How, Deepdale Bridge, Dubhow
Start Point:
Cow Bridge car park, Patterdale
Grid Reference:
NY 403 133
Distance:
10 miles
Ascent:
3,360 feet
Time:
6.5 hours - 5 hours actual walking with a long time spent at the Priest's Hole
Weather:
Overcast with some sunny spells and a very strong wind on the summits and ridges
Comments:

This walk was specifically to find The Priest's Hole. Taking the higher path into Dovedale it wasn't long before I was able to see the Priest's Hole in the rock face below Dove Crag. After reaching Houndshope Cove I took a diagonal route to the left and soon saw signs of other walkers having taken this route. Eventually the path became quite clear and I reached my target quite easily. I chose this spot for my morning break and took quite a long time taking photos.

Instead of heading down the way I had climbed up I kept close to the cliff face and found a good path that contoured across to the Fairfield Horseshoe footpath. As I headed up to Hart Crag the wind became very strong and I decided to return via Hartsop Above How. This gave me more good views across to the Priest's Hole before making my way down to Deepdale Bridge. From here I returned to the car via Dubhow.
Brothers Water with Anletarn Pike to the left and Brock Crags just to the right . . .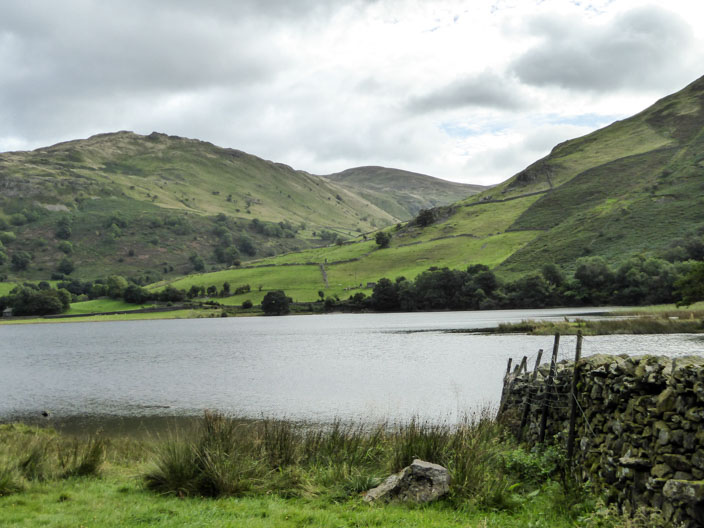 and Rest Dodd in the centre
Severe erosion
Dove Crag comes into view . . .
and zooming in we get a first sighting of the Priest's Hole
An earlier sign had said that the bridge had been damaged . . .
but there is very little water in the beck today ( and I don't need to cross it)
The Mountain Ash . . .
also known as a Rowan Tree . . .
is laden with food for the birds
The waterfall is a sign that it will soon be time for the steep climb
From the plateau at Houdshope Cove there are good views of my route so far
A little further on the cave can be seen again, near the left edge of the rock face . . .
and taking a closer look
Heading diagonally left . . .
the route becomes clear . . .
and the cave is finally reached
Time to take it all in . . .
with lots of photos
A low wall gives some protection . . .
for those who wish to spend the night here
The books record many visits . . .
and some mats have been left for visitors to use
The view from the cave . . .
takes in many fell tops . . .
and St Sunday Crag looks really close from here
Then its time to try out a few shots . . .
with myself in the picture . . .
trying out different shots . . .
and positions
A last look down Dovedale Valley . . .
and across to St Sunday Crag
Windermere from Hart Crag . . .
and across to the Far Eastern fells
From the Hartsop Above How ridge . . .
there are good views . . .
back to the cave . . .
and Dove Crag
Hart Crag, centre, and Fairfield to the right
A good viewpoint for Angletarn Pikes
Angletarn Beck