Wednesday, 7th September 2016
Walk:
Oddies Lane, Twisleton Hall, Kirkby Gate, Gill Head, Chapel-le-Dale, Souther Scales, Humphrey Bottom, Ingleborough, Crina Bottom, Fell Lane (track)
Start Point:
Ingleton main car park
Grid Reference:
SD 694 730
Distance:
12 miles
Ascent:
2,650 feet
Time:
6.5 hours
Weather:
Mainly sunny and hot
Comments:
The day dawned bright and hot and promised the best weather yet on Ingleborough. Taking a clockwise direction we ascended onto Twisleton Scars before making our way to Chapel-le-Dale. After crossing the road we headed for Humphrey Bottom where a flagged path took us across the boggy ground. It was ineteresting to see the path maintenance that was taking place on the way to the summit. Then it was downhill all the way (almost) back to Ingleton.
A cairn that . . .
almost looks like a pyramid
Whernside in the far distance
A sink hole that looks more like . . .
the jaws of some alien creature!
Ribblehead viaduct
In Chapel-le-Dale . . .
the church looks too inviting to pass by
A mown pathway leads to . . . .
an interesting Millennium Stone
A small but very well kept church . . .
with beautiful stained glass windows
Looking back across the valley to Twisleton Scars
YOU SHALL NOT PASS!!
There's a lot of greenery amongst the limestone pavement
Time for a footspa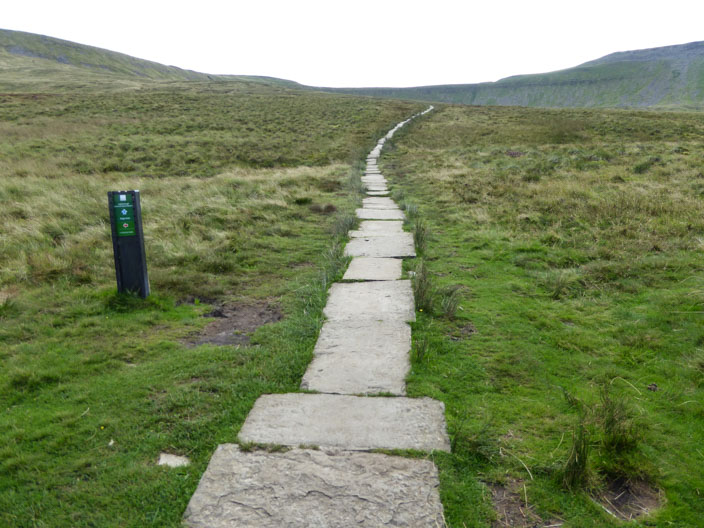 A flagged pathway leads across Humphrey Bottom . . .
and the sun highlights the colours in the water here
Getting nearer to . . .
the steep climb . . .
before reaching a more gentle gradient . . .
where the path is being upgraded . . .
with lots of millstone flags
The digger seems to be in quite a precarious position . . .
but they must know what they are doing!!
Today the weather is the best I have ever encountered on the summit . . .
so we make sure . . .
we both have a photo at the shelter . . .
and at . . .
the trig point
Descending from the summit . . .
the information board . . .
tells us about the three peaks walk . . .
and the disappearing tower
Anyone for a blue rinse?
Crina Bottom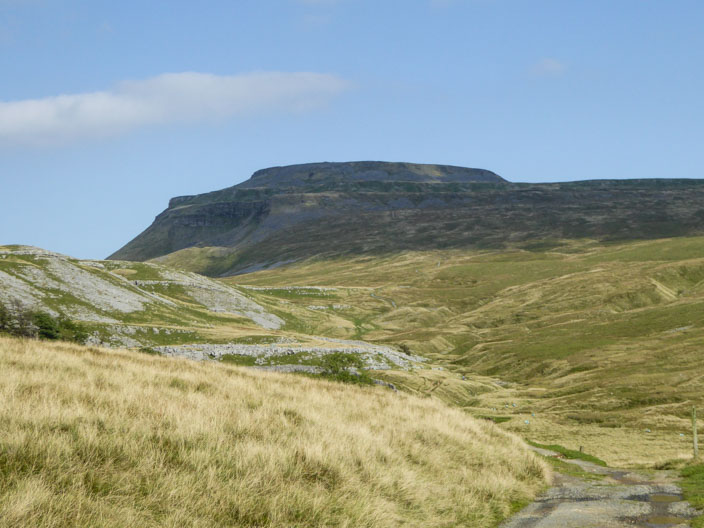 A last view back to the summit