Sunday, 23rd April 2017
Walk:
Boulder Valley, Coppermines Valley, Levers Water, Swirl Hawse, Broad Slack, Tilberthwaite Fells, Atkinson Coppice, Betsy Crag, Dry Cove Bottom, Hole Rake, Miners Bridge
Start Point:
Walna Scar Road
Grid Reference:
SD 289 970
Distance:
12.5 miles
Ascent:
3,880 feet
Time:
7.5 hours
Weather:
Sunny and clear with a slight breeze
Comments:
A rollercoaster walk which tracked its way around Wetherlam without visiting any tops. The terrain was varied and there was lots of interest with disused mining tunnels and equipment. We also saw parts of the airplane which crashed in 1944 and for which there is a memorial near Great Carrs.
Walna Scar road car park
Geared up and ready to go . . .
as we set off in glorious weather
John, Karen and Pat - deep in thought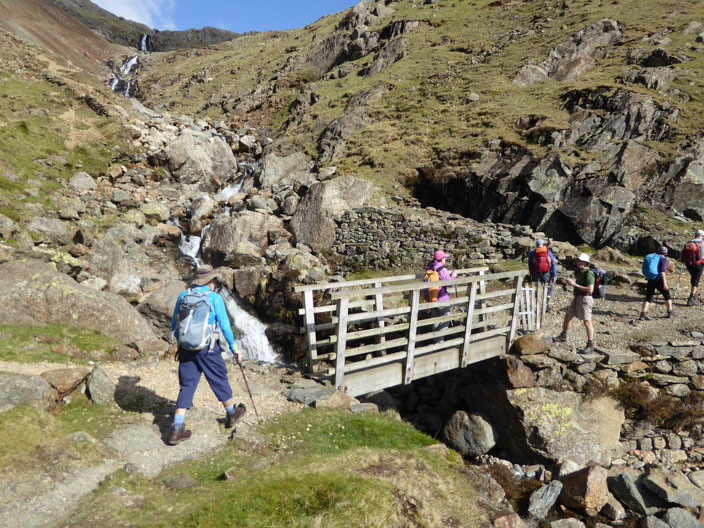 Crossing the beck . . .
we take a moment to explore the disused tunnel
Ray checks out the abandoned sluice gate . . .
and we pass the position where the waterwheel would have been . . .
but then it is a steep climb . . .
and we appreciate a pause to identify the outcrop as Kennel Crag
After our morning break beside Levers Water . . .
we start to ascend again . . .
but the sheep prefers the craggy top
Prison Band on the left as we climb to . . .
Swirl Hawse
Broad Slack bears the sad remains of a Royal Canadian Air Force Handley Page Halifax bomber
The bomber remained largely intact and, to prevent other aircraft from spotting it and reporting it repeatedly,
the wreckage was cut into a number of smaller, moveable pieces and discarded down Broad Slack
Descending into Greenburn Valley . . .
where the long abandoned Greenburn Mines are classed as an ancient monument
Greenburn Beck
The Langdale Pikes
The off road vehicle . . .
tackles a tricky section . . .
as it makes its way . . .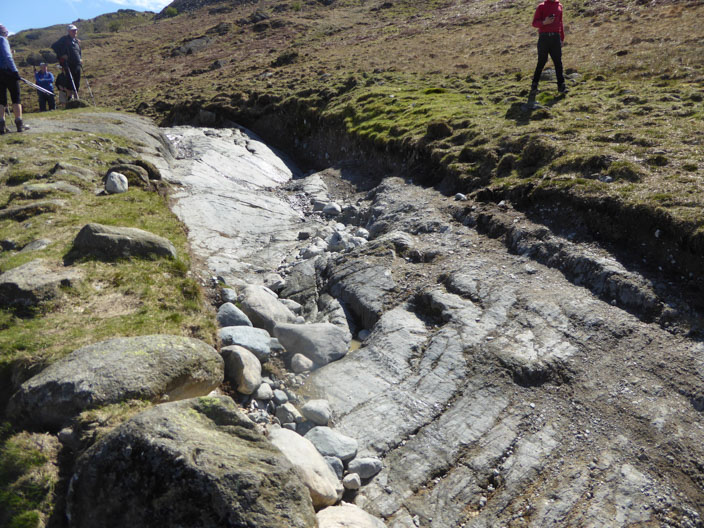 over some very uneven rocks . . .
with quite a big drop to navigate . . .
to join his companions
Coniston Water comes into view as we make our way down to . . .
Coppermines Valley
Coniston and Coniston water still bathed in sunshine