Sunday, 13th August 2017
Walk:
Pike How, Pavey Ark, Harrison Stickle, Loft Crag, Pike o'Stickle, Martcrag Moor, Rossett Pike, Rossett Gill, Cumbria Way
Start Point:
New Dungeon Ghyll NT car park
Grid Reference:
NY 286 060
Distance:
12 miles
Ascent:
3,600 feet
Time:
7 hours
Weather:
Mild with sunny spells
Comments:
Taking a route we hadn't done previously we made our way up a rocky and grassy ascent to arrive at a point above Stickle Tarn. As we continued climbing we could see poeple on Pavey Ark, but more interestingly one walker was making his/her way up Jack's Rake. A good view point was selected for our coffee break before continuing on to Pavey Ark nd Harrison Stickle. A visit was made to Loft Crag before topping out on Pike o'Stickle. From here the walking was quite easy to Rossett Pike then a long paved path took us on a zig zag route beside Rossett Gill to reach the Cumbria Way and a brisk walk back to the cars. An enjoyable walk in good weather.
A sunny start in the Old Dungeon Ghyll car park
We soon start to climb . . .
and enjoy the views back down the Great Langdale Valley
Loft Crag and Harrison Stickle come into view . . .
as we continue the long ascent . . .
to finally look down on Stickle Tarn
Zooming in on Pavey Ark a figure in blue can just be seen on Jack's Rake (middle right)
Taking the path between Pavey Ark and Harrison Stickle . . .
we have a good view of the face of Pavey Ark above Stickle Tarn
We continue the ascent . . .
which leads us on to . . .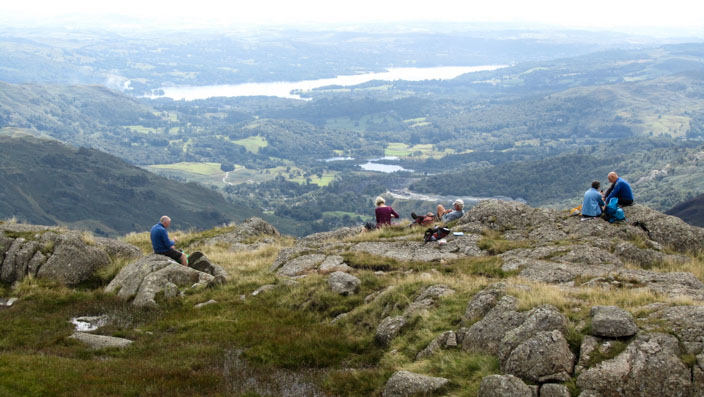 the perfect spot for our morning break
Lots of rocks for a group shot on Pavey Ark
and one on Harrison Stickle . . .
then Loft Crag . . .
which has great views of Harrison Stickle
A rocky scramble . . .
brings the group to the summit of Pike o'Stickle . . .
where we take time out for a group shot
It's a long way from the tower!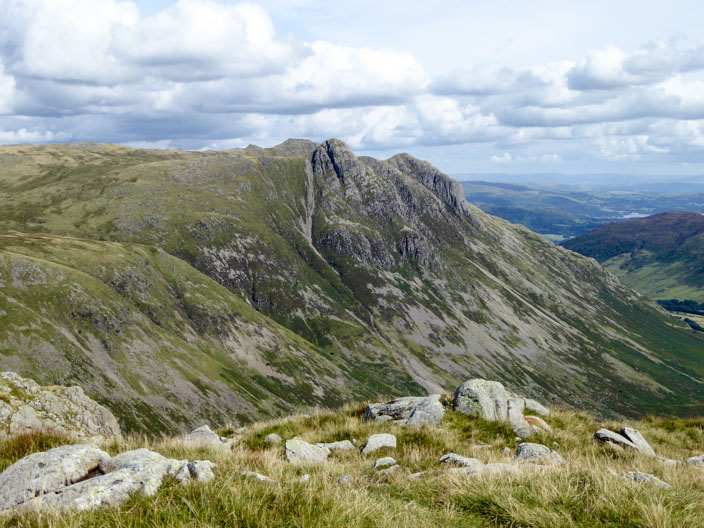 Pike o'Stickle, Loft Crag, Harrison Stickle and Pavey Ark from Rossett Pike . . .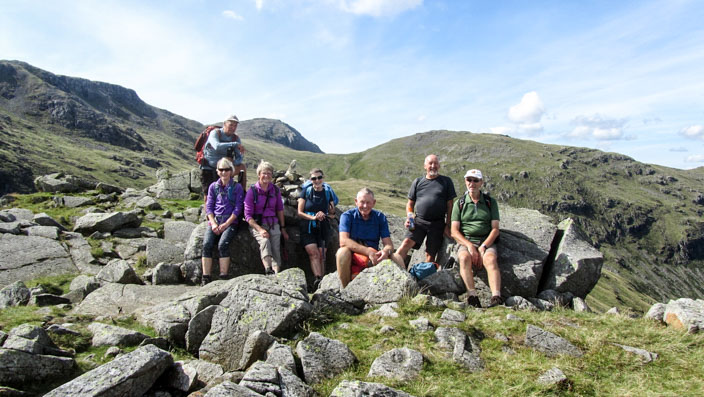 and in the opposite direction Great End can be seen in the distance
Around 1,500 feet is a long way to carry a mountain bike!!
Rossett Gill leads down to Mickleden Beck, part of the Cumbria Way