Tuesday, 29th August 2017
Walk:
Humphrey Bottom, Ingleborough, Sulber, Horton-in-Ribblesdale, Brackenbottom, Pen-y-Ghent, Pennine Way, High Birkwith, God's Bridge, Ribblehead, Blue Clay Ridge, Whernside, Philpin Lane, Low Sleights Road
Start Point:
Layby on Low Sleights Road
Grid Reference:
SD 744 777
Distance:
24.5 miles
Ascent:
5,200 feet
Time:
11 hours 30 minutes
Weather:
Overcast with a cold wind at times
Comments:
I have climbed the Yorkshire Three Peaks many times but never all on one day - and within 12 hours as stipulated by the Yorkshire Three Peaks Challenge. The opportunity arose at short notice so I decided it was 'now or never'.
Setting out at 8.40am we were pleased to see that the rolling low cloud would disappear before we reached our first summit, Ingleborough. Enjoying the view for few minutes we were soon on our way to Horton-in-Ribblesdale and our second summit, Pen-y-Ghent. Conditions here were much different with a cold wind but the wall provided good shelter as we stopped for lunch. From there we were able to make good time across to Ribblehead where a short break preceded a long gradual climb onto the last summit, Whernside. The steep descent needed lots of care due to erosion and tired legs. A celebratory meal completed a very enjoyable day.
Ready to set off with our first summit, Ingleborough in the background . . .
as low cloud drifts across
The summit shelter is accompanied by . . .
a summit cairn which has views across . . .
to Ingleton
As we continue on our way . . .
Pat and Robb pay a quick visit to the trig point
Our morning break is taken near what used to be a shooting hut
Crossing to Sulber Nick our next target, Pen-y-Ghent, looms in the distance . . .
but looks somewhat closer as we reach Horton-in-Ribblesdale
Climbing up from Brackenbottom . . .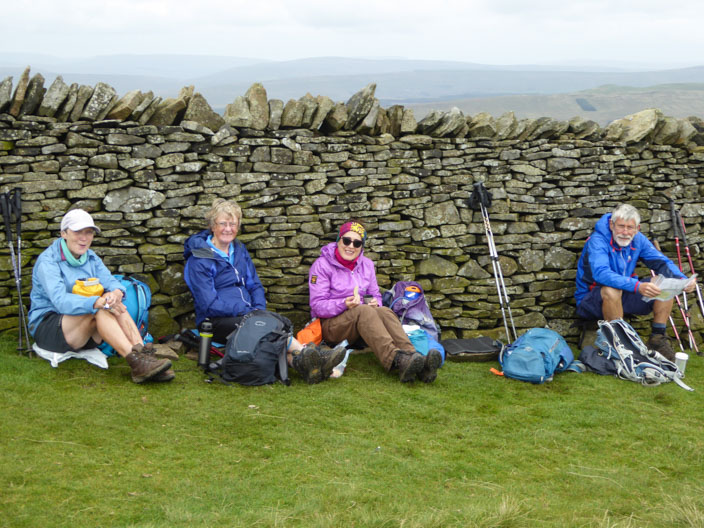 to enjoy lunch . . .
on the summit of Pen-y-Ghent
Having descended via the Pennine Way . . .
the sign shows the direction . . .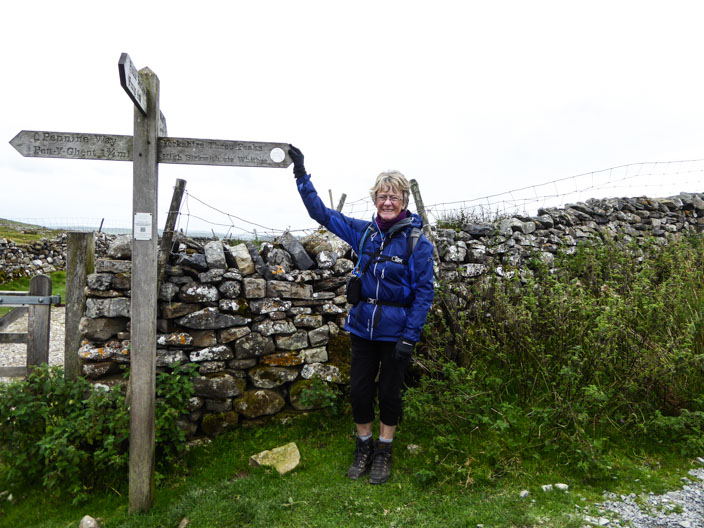 to our final summit, Whernside
Says it all
Don't let us disturb you
Lodge Hall, Ingman Lodge Road, Selside is . . .
an integral part of a working farm and . . .
is dated 1687
Following Gauber Road we are able to keep up a good pace to reach . . .
Ribblehead with a good view of the viaduct and our last summit, Whernside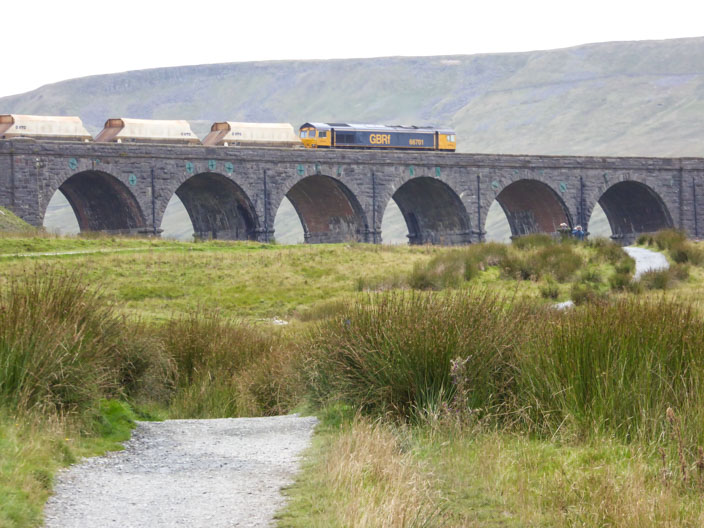 We were fortunate to see a passing goods train . . .
which had 22 carriages
We enjoy a short break before . . .
heading out on the next section . . .
beside the railway line, where another goods train . . .
waits for the green signal
As we follow the route up to Whernside, the summit comes into view . . .
and we can look back at Ingleborough, our first summit . . .
and Pen-y-Ghent, the second one
At a higher point we can see distant signs of the sun sinking low . . .
not surprising as it is 7pm when we reach the summit . . .
and with no walkers around to take a group photo we settle for two
After a long steep descent we can see the Ribble viaduct from the opposite side . . .
and take a last look at the summit before we head for the pub and a welcome celebratory meal