Sunday, 19th February 2017
Walk:
Leeds & Liverpool Canal, Skipton, Tarn Moor, Sharp Haw, Rough Haw (Flasby Fell). Leeds & Liverpool Canal
Start Point:
Gargrave car park
Grid Reference:
SD 932 543
Distance:
13 miles
Ascent:
1,500 feet
Time:
6 hours
Weather:
Overcast but mainly dry
Comments:
A long stretch on the canal took us into Skipton - but no time for shopping!! With some heavy rain the previous night we encoutered many muddy sections on our way to Sharp Haw. Rough Haw, on Flasby Fell, was our next target before walking through the grounds of Flasby Hall. More muddy sections took us back to the canal where we were able to remove some of the mud from our boots before returning to the car. This being Les and Lesley's home ground, Les treated us to a coffee at the Dalesman - a very welcome 'extra'. Thank you Les.
Time to go
A gathering point for different birds . . .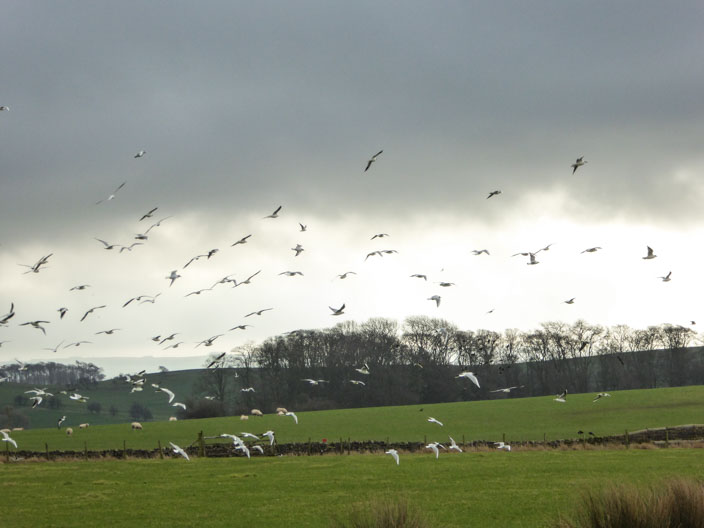 but the seagulls decide to leave as we approach . . .
and the Canada Geese are encouraged to stay by 'the boss on the bank'
A swan comes to greet us . . .
and displays his tag for our benefit
A couple of kayakers are heading for Barnoldswick . . .
while a cygnet diplays his plumeage
Leaving the canal . . .
we make our way into Skipton . . .
where the gold post box . . .
is dedicated to Skipton's Olympian
Sharp Haw . . .
is the main target of our walk . . .
and provides a sheltered spot for lunch
Looking back at Sharp Haw . . .
from Rough Haw . . .
as John inspects a lower cairn . . .
before returning for a group photo
How many snowdrops!!!
Rough Haw to the left and Sharp Haw to the right from the grounds of Flasby Hall
Time to clean the boots before reaching the car park
A very welcome treat