Wednesday, 25th January 2017
Walk:
Conistone, Conistone Dib, Bycliffe Road, Kelber Gate, High Barn, Yarnbury, Hebden Beck, Hebden, Dales Way, Linton Falls
Start Point:
Grassington NP car park
Grid Reference:
SE 002 637
Distance:
13.2 miles
Ascent:
1,720 feet
Time:
6 hours
Weather:
Sunny and mild
Comments:
Extending a previous walk I also reversed the route done previously so that I would head up Conistone Dib rather than down it. I tried a suggested detour along Old Moor Lane to the dam but found that this extra sec tion wasn't worth following unless the plan was to visit the smelt mill workings. Heading down Hebden Beck I found that it wasn't as picturesque as walking up it - just need to keep looking back! The Dales Way was an easy track to follow and the sun enhanced Linton Falls.
The centre of Grassington . . .
where the water feature . . .
was erected in the year 2000
Heading up Conistone Dib . . .
this section is reminiscent of walking out of the Grand Canyon
Loooking back down the path . . .
before climbing up a rocky section . . .
with great views back down the route
From the dam evidence of the smelt mill can be seen . . .
and the dam marks the start of Hebden Beck
High up on the Miners Track beside Hebden Beck . . .
and at a lower level . . .
the sun sparkles on the water of a small tributary
Looking back up the Miners Track - the more picturesque direction
River Wharfe
I am joined at the gate . . .
by a cheeky little robin . . .
who can't decide . . .
which is his best side
River Wharfe reflections
Approaching Linton Falls . . .
where water gushes from the overflow . . .
beside the falls themselves . . .
and the outflow again from the bridge . . .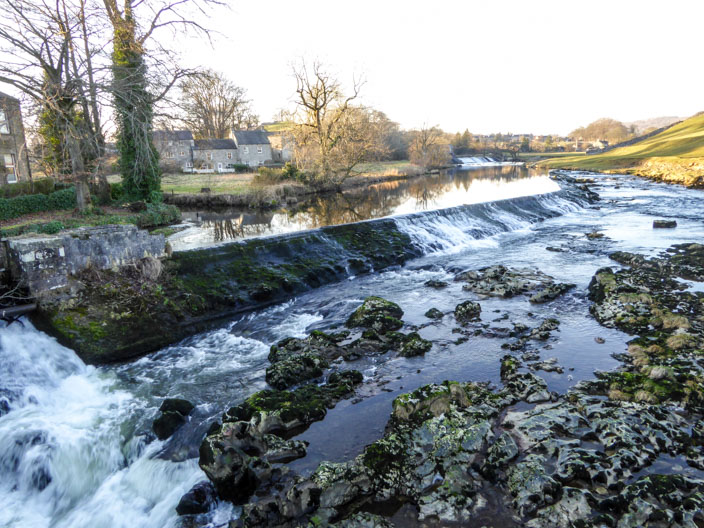 as well as one more photo . . .
before detouring to the weir