Sunday, 8th January 2017
Walk:
The Castle (folly), Wilderswood, Adam Hill, White Brow, Burnt Edge, Holden's Farm, Smithills Moor, Winter Hill, Belmont, Ward's Reservoir, Winter Hill Flats, Noon Hill, Belmont Road (track), Pigeon Tower, Rivington Hall Barn
Start Point:
Rivington Great House Barn
Grid Reference:
SD 628 138
Distance:
13 miles
Ascent:
2,300 feet
Time:
6.5 hours
Weather:
Mist and drizzle for much of the day
Comments:
Arriving at The Castle in Lever Park it was found that a number of the party had not visited this folly previously so a little time was spent exploring it. The lack of views from Adam Hill and White Brow ensured that we quickly moved on to stop for our morning break on Burnt Edge. As we crossed Smithills Moor the main mast emerged from the mist - brieflyl!! Dropping out of the mist into Belmont we were hopeful that there would be an improvement in the weather. But, even though it was only 3pm by the time we reached Noon Hill the conditions were such that the leader decided to abandon the rest of the route across the moors to Rivington Pike with a descent through the wooded terraced gardens. Instead we quickly descended to the Belmont Road (track) and returned to the cars via the Pigeon Tower and Rivington Hall Barn. Despite the weather the group seemed to enjoy the walk. It was given the accolade of 'The Wettest Walk of the Year' and Tony was pleased to have tested out his new gaitors!
The 'Peleton' approaches The Castle . . .
where the group gathers to discuss its origins, built as a folly - a replica of the original built in Liverpool.
It was commissioned in 1912 by William Hesketh Lever (Lord Leverhulme)and was meant to look like a ruin that had stood for years.
Construction work ceased when Lever died in 1925 and the castle never reached the stage of completion he had envisaged.
A bridge over the River Douglas . . .
is reached by a quite a few steps.
No views on Adam Hill
The main mast emerges from the mist as we cross
Smithills Moor . . .
but it's not going to last!
The group takes time . . .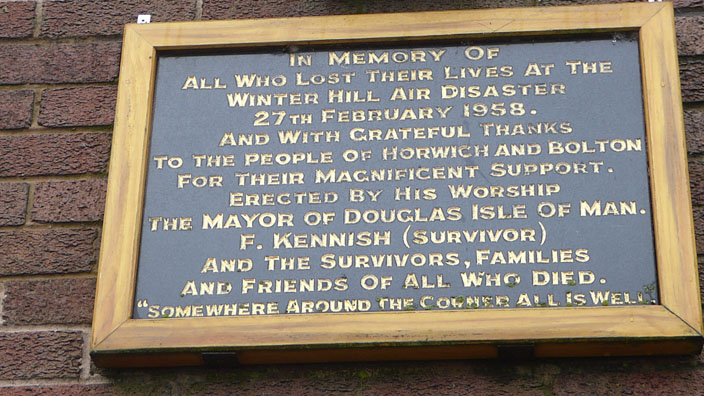 to read the plaque . . .
then Scotsman's Stump . . .
receives the same attention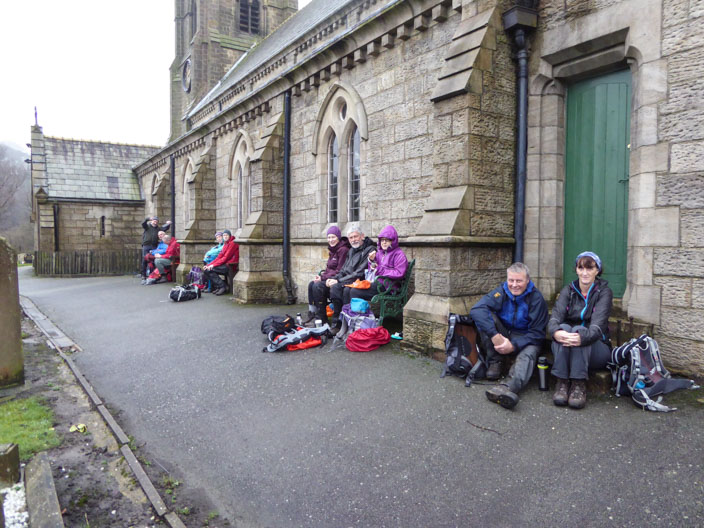 St Peter's Church, Belmont is the perfect spot for lunch
Ward's Reservoir, locally known as 'The Blue Lagoon', was drained in 2010 due to fears for it's safety with regard to dangerous flood water levels in the future . . .
so the group gathers where the inflow would have been
Crossing Winter Hill Flats the mist has left its mark . . .
as jewels on the grass