Sunday, 18th February 2018
Walk:
Dowber Gill Beck, Providence Pot, Hag Dyke, Great Whernside, Blackfell Top, Tor Dike, Starbotton Road, Starbotton, River Wharfe, Dales Way
Start Point:
Kettlewell garage car parl
Grid Reference:
SD 968 722
Distance:
10.5 miles
Ascent:
2,200 feet
Time:
6 hours
Weather:
A dry day at the beginning and end of the walk but snow and mist at the higher levels
Comments:
With a reasonable forecast all looked well as we made our way out of Kettlewell along Dowber Gill Beck. However after passing Hag Dyke it became obvious that there would be no views today! As we climbed, the mist descended and the snow covering increased making the walking more difficult - hence the longer time taken to complete this walk. The fence line along the ridge provides a very useful hand rail as does the wall when it is time to descend. We eventually left the mist and snow behind as we descended to Starbotton to follow the River Wharfe back to Kettlewell.
Walking beside Dowber Gill Beck . . .
we followed a clear path . . .
leading into the gill . . .
from where we could see some snow on the ridge ahead
Keeping an eye on the water in the beck . . .
we passed dry sections . . .
where the water . . .
had moved underground
Providence Pot . . .
where pot-holers can access the caving system
Ready to leave the gill . . .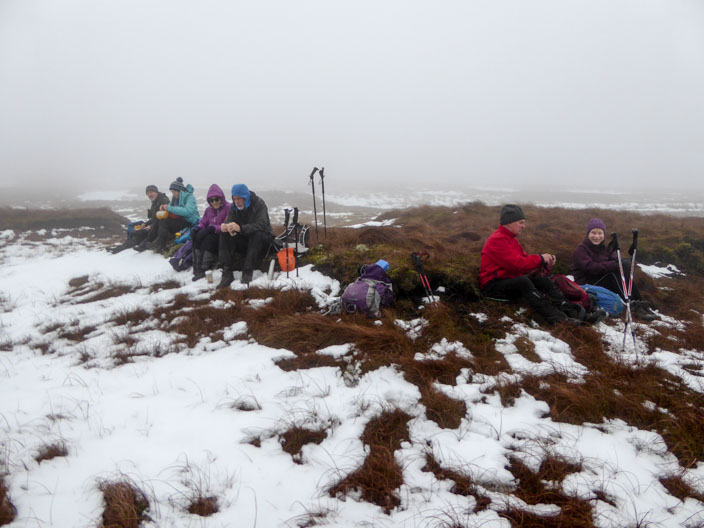 we stopped for elevenses as we reached the snow and mist
Pat and Tony found the trig point in the mist . . .
before being joined by Robb
There was lots more snow as we walked along the ridge . . .
Lots of snow against the wall . . .
but it was even deeper . . .
on the other side . . .
as Ian demonstrated
Time for lunch at a lower level - but still misty
until we reached Starbotton Cam Road
The group posed on the bridge . . .
across the River Wharfe