Sunday, 22nd July 2018
Walk:
Old Coach Road, Clough Head, Great Dodd, Watson's Dodd, Stybarrow Dodd, Hart Side, Birkett Fell, Watermillock Common
Start Point:
Dockray Bridge
Grid Reference:
NY 393 215
Distance:
13 miles
Ascent:
2,800 feet
Time:
6.5 hours
Weather:
Misty on The Dodds and sunny in the afternoon
Comments:

After the intial climb to the Old Coach Road the route is quite flat until Mariel Bridge is reached. As we started the climb to Clough Head the mist descended the slopes and stayed with us until we reached Stybarrow Dodd where we stopped for lunch. We were then able to enjoy views of the summits from Helvellyn to Place Fell before turning north-east to visit Hart Side before returning along the flanks of Watermillock Common where we were able to take in the veiws of Ullswater.

Coincidentally the evening episode of Countryfile made mention of Ullswater and how a speech by Lord Birkett was instrumental in preventing it from being made into a reservoir. (Thank you John for spotting this.)

Birkett Fell was named only relatively recently. On the 8th February 1962 Lord Birkett made a critical speech in the House of Lords against a bill brought by the Manchester Corporation to make Ullswater into a reservoir providing water for their voracious city. The bill was defeated and Ullswater reprieved. Two days after the speech he died. A hitherto un-named fell was named in his honour. The Ullswater Yacht Club also commemorate him by holding the Lord Birkett Cup Trophy Race in July each year.
Setting out from the parking space beside Dockray Bridge
A lone deer was spotted in the distance on Sandbeds Moss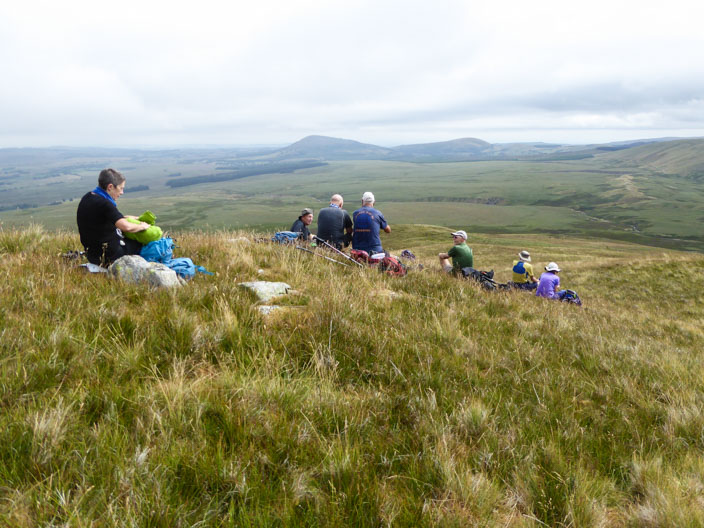 We stopped for elevenses on the climb to Clough Head
in the hope that the mist would clear . . .
but we were disappointed that it was still around when we reached Clough Head . . .
and Great Dodd . . .
followed by Watson's Dodd . . .
but after a pause at Stybarrow Dodd . . .
the mist cleared as we stopped for lunch . . .
and there were distant views from Hart Side . . .
but the actual Wainwright could be any of the few cairns in this area
However this cairn . . .
is dedicated to Lord Birkett . . .
whose actions prevented Ullswater from becoming a reservoir