Sunday, 11th November 2018
Walk:
Huntingstile Crag, Dow Bank, Spedding Crag, Silver How, Allen Bank, Grasmere, A591, Alcock Tarn, Coffin Route, Rydal, Rydal Water, Loughrigg Terrace, Hammerscar Plantation, Huntingstile Crag
Start Point:
Elterwater, Walthwaite Bottom
Grid Reference:
NY 329 051
Distance:
11 miles
Ascent:
3,200 feet
Time:
6.5 hours
Weather:
Drizzle then heavy rain in the morning, clearing in the afternoon with some sun
Comments:
Most of the walk in the morning was in low cloud with no views. We dropped below the cloud as we entered Grasmere and before we reached the start of our next climb to Alcock Tarn the cloud had lifted and the sun broke through at times. Great views were to be had as we descended to the Coffin Route and a spot of sun highlighted the fells as we walked beside Rydal Water.
Near the start of the walk - but no more photos till the afternoon
The cloud is lifting as we start our second climb . . .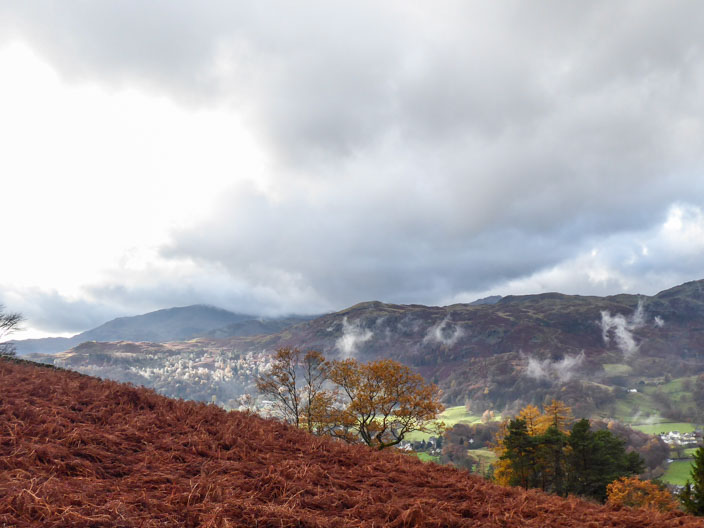 and Loughrigg Fell can be seen
Higher stillcloud hovers around Helm Crag and Steel Fell
Silver How can just be seen to the left of the Langdale Pikes in the far distance
Arriving at Alcock Tarn . . .
we find a sheltered spot for lunch
Windermere comes into view as we leave Alcock Tarn . . .
taking time for a look back on the way
Typical Lakeland scenery
Trying out the zoom to capture Sourmilk Gill on the other side of Grasmere
A good path leads down . . .
as we take time for a group shot . . .
before heading through the woodland
There seems to be something unusual about this tree trunk . . .
which causes a little humour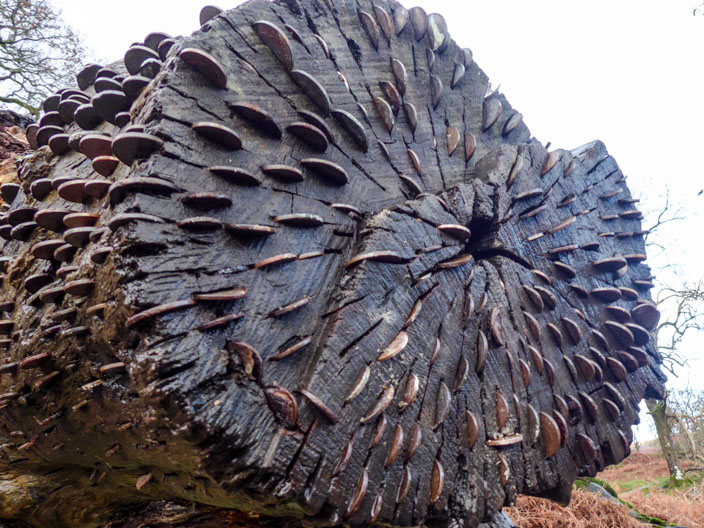 Who says money doesn't grow on trees??
Two pence and ten pence coins seem to be the main currency here
Sun highlights Nab Scar as it is reflected in Rydal Water . . .
and again from further along the path