Tuesday, 23rd October 2018
Walk:
Binsey, Orthwaite, Little Cockup, Great Cockup, Trusmadoor, Meal Fell, Great Sca Fell, Little Sca Fell, Broad Moss, Longlands Fell, Longlands, Chapel House Farm, Scawthwaite Mire
Start Point:
Binsey Cottage
Grid Reference:
NY 234 350
Distance:
12 miles
Ascent:
3,800 feet
Time:
6 hours
Weather:
Overcast with low cloud and strong winds at the higher levels.
Comments:
Parking at Binsey Cottage meant that there was a long walk across fields to the 'Back o' Skidda' Fells. When I descended from Longlands Fell I noted that there was room for a few cars to park at Longlands, which could be used in the future.
The low mist and lack of a clear track to Great Cockup and Great Sca Fell made navigating difficult and with the weather deteriorating I decided to miss out Brae Fell, which is usually included in this group. Of course once I had descended I left the mist behind and it was quite a pleasant walk back to the car.
Binsey with a nearby shelter . . .
and more distant cairn
A circle of rocks . . .
bit the inside gives no indication of what it is
Great Cockup . . .
with surrounding low cloud
Meal Fell
Great Sca Fell whose smaller neighbour . . .
Little Sca Fell has a much more impressive cairn and shelter
Longlands Fell . . .
where someone has been balancing rocks
Dropping out of the low cloud . . .
the views soon open up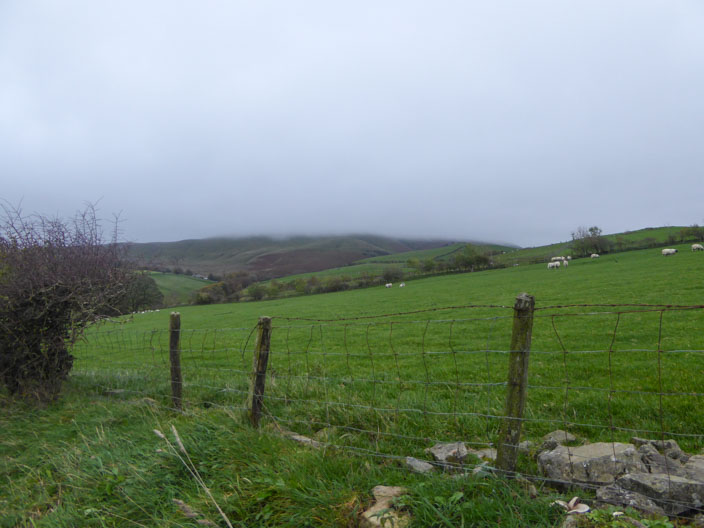 Looking back the tops are hidden in the mist