Wednesday, 12th September 2018
Walk:

Seathwaite Farm, Stockley Bridge, faint path beside Aaron Crags, Seathwaite Fell, Sprinkling Tarn, Styhead Tarn, Styhead Gill, Stockley Bridge, Seathwaite Farm

Start Point:
Roadside near Seathwaite Farm
Grid Reference:
NY 235 123
Distance:
6.5 miles
Ascent:
2,100 feet
Time:
5 hours
Weather:
Sunny spells
Comments:
With good weather forecast we decided to return to Seathwaite to complete the walk we attempted to do on Sunday. We left the main footpath just after a small beck to climb steeply to the right of Aaron Crags. This was hard going but meant that we didn't have to return all the way on the outward route.
Sourmilk Gill . . .
is a lot easier to photograph today . . .
than it was on Monday
Seathwaite Slabs . . .
and the top waterfall
Taylor Gill Force . . .
comes into view
Stockley Bridge . . .
where Marie and Sheila check out Grains Gill . . .
but we take the path . . .
beside Styhead Gill
A steep climb leads us up beside . . .
Aaron Crags
Cloud touches the top of Great Gable with Green Gable to the right . . .
but there are clear views down to Borrowdale and Derwent Water
Sheila ticks off another Wainwright . . .
before being joined by Marie . . .
who is visiting this one for her third time . . .
as am I
The sun makes a brief appearance for a parting shot
Scafell Pike pops up in the distance . . .
and Glaramara can be seen to our left
We thought this picturesque tarn deserved a name?
Sprinkling Tarn with Great End to the right
Great Gable . . .
from the footpath between Sprinkling Tarn and Styhead Tarn . . .
Zooming in we can see Napes Needle . . .
and again . . .
and once more
Styhead Tarn
The Styhead Pass Mountain Rescue box is the only one left of the six
that used to be scattered around the Lake District
Would make a great water slide . . .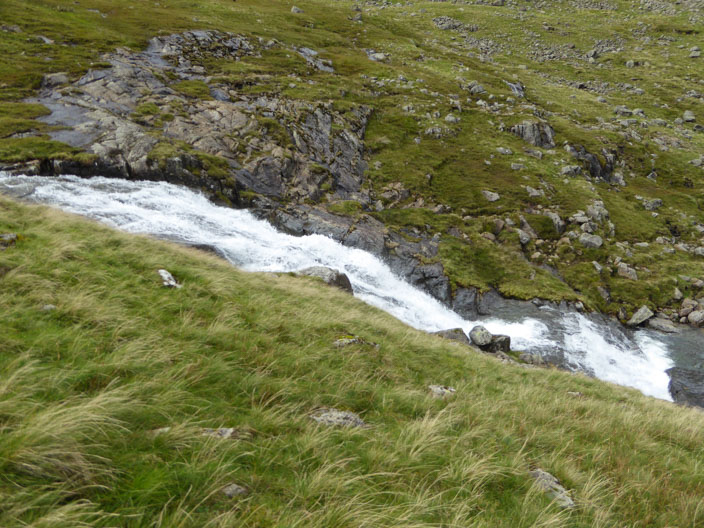 as would this one!
Back over Stockley Bridge