Thursday, 13th September 2018
Walk:
River Greta, Fitz Park, Old Railway Line Path, Brundholme Wood, Latrigg, Cumbria Way, Fitz Park, River Greta
Start Point:
Keswick, High Street - near Moot Hall
Grid Reference:
NY 267 232
Distance:
7 miles
Ascent:
1,100 feet
Time:
3.25 hours
Weather:
A sunny start becoming overcast and a cold wind on the summit
Comments:
According to the forecast the weather would deteriorate significantly during the day. Consequently we decided on an early start and walk straight from the cottage. As I had previously only done Latrigg from its nearby car park it was decided to do it again, this time via Brundholme Wood. The sun was shining as we set out and there was only a hint of rain before we returned to the cottage!
Latrigg comes into view as we cross the River Greta . . .
and in the opposite direction we can see catbells
A boardwalk takes the path around the hillside where the train would go through a tunnel
Marie and Sheila inspect the River Greta where there are still signs
of the heavy flooding a couple of years ago
Latrigg affords views in all directions - Clough Head to Helvellyn . . .
Walla Crag and Bleaberry Fell beside Derwent water . . .
Catbells and Causey Pike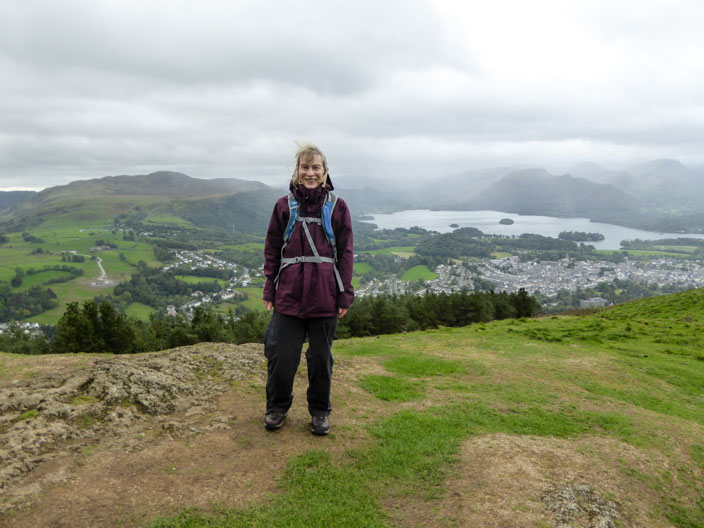 Sheila . . .
and I . . .
are joined by Marie . . .
Leaving the summit behind we make our way down the Cumbria Way . . .
to find views of Bassenthwaite and Dodd
Low cloud threatens as we look over Keswick to the fells beyond
A couple of fly agaric sit next to . . .
a trio . . .
with flat caps . . .
and impressive gills below
Latrigg summit
Time for elevenses . . .
in Fitz Park