Sunday, 10th February 2019
Walk:
Upper Winskill, Catrigg Force, Stainforth, Stainforth Force, Hargreaves Barn, Smearsett Scar, Pot Scar, Feizor, Stackhouse, River Ribble
Start Point:
Langcliffe car park
Grid Reference:
SD 823 651
Distance:
10 miles
Ascent:
2,000 feet
Time:
6.25 hours
Weather:
A cold wind with sun appearing in the afternoon
Comments:

Following a spell of wet weather, waterfalls seemed to be an obvious place to visit so we opted for Catrigg Force and Stainforth Force. When I last visited Catrigg Force in July, after a spell of very dry weather, there was only a trickle of water but today was quite the opposite. The River Ribble was flowing very swiftly over Stainforth Force and we were fortunate to arrive there at the same time as a group of canoeists. However, only two of them went over the waterfalls and the rest carried their canoes to a point further down the river. It was interesting to see how long they deliberated the possibility of tackling the waterfalls and the actions they took to ensure the safety of the two daring young men.

Having carried on to climb Smearsett Scar thoughts turned to the cafe at Feizor. Always a very busy place, the owners of the cafe now have a sheltered and heated outdoor area which we made good use of!
Lots of water . . .
in Catrigg Force today . . .
and zooming in
Marie checks out the fallen tree -
probably due to the previous night's strong wind
The waterfall can be seen from above . . .
but we'd better not get too close!
Stainforth Stepping Stones - but we decide to give them a miss today
Arriving at . . .
Stainforth Force . . .
we are joined by a group of canooists . . .
who check out the falls . . .
before one decides . . .
to take his chance
Then another one . . .
cheers as he reaches the bottom of the falls
The water is quite high as it flows beneath the bridge over the River Ribble
Smearsett Scar . . .
with Pen-y-Ghent in the distance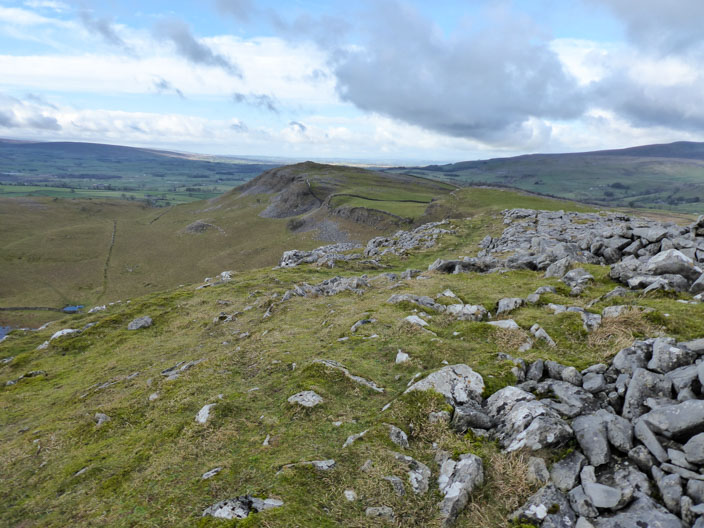 Looking from the trig point to Pot Scar at the other end of the ridge
Ingleborough . . .
and Pen-y-Ghent from the end of the ridge
A bridge beside the weir takes us back over the River Ribble