Saturday, 22nd February 2020
Walk:
Stonyhurst Observatories, Hall Barn Farm, Whalley Road, Cross Gills, River Ribble, ShireburnArms, Village Hall car park, Dean Brook, Shire Lane, The Dene
Start Point:
Hurst Green Village Hall car park
Grid Reference:
SD 684 382
Distance:
5 miles
Ascent:
900 feet
Time:
2.5 hours
Weather:
Dry but cold and very windy
Comments:
The incessant rain on previous days meant that walking would be tough but it wasn't as bad as expected. The aim of this walk was to check two Promoted Routes, Hurst Green A and B. As both walks started from the Village Hall car park I was able to combine them into one figure of 8 walk.
Reaching the Ribble Way . . .
the level and speed of the water is obvious
Reaching the aqueduct . . .
the stanchions in the centre . . .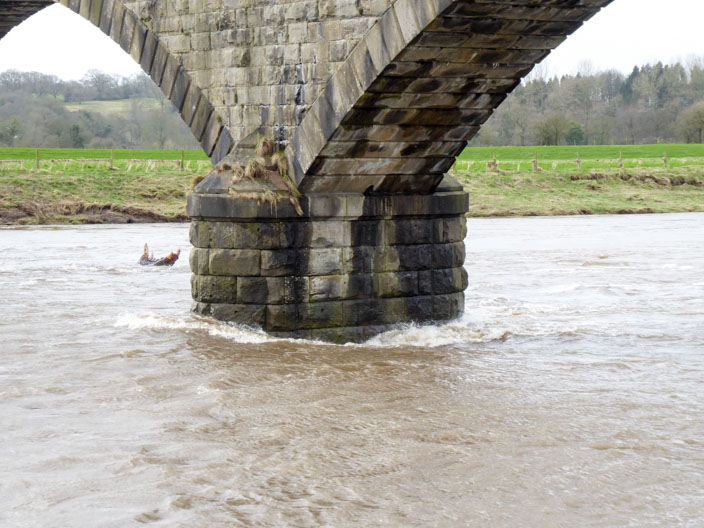 show just how strongly . . .
the water is flowing
As the tree branches dip into the water . . .
we can see the level that the water has previously reached
Work in progress - used to be a wooden stile
A new gate has been installed but the route now goes through the gap instead of into the field
After descending the steps two footbridges
take you across two ditches . . .
and a waymarker indicates the way forward (watch out for the missing plank)
The second walk followed the bridleway beside Dean Brook . . .
where, again, the water rushes by . . .
as I cross the bridge
A colourful display as I walk through The Dene